Screen Territory
TERRITORY SHINES ON SCREEN
The Northern Territory's growing reputation as a place to make movies, documentaries, television and online series, and adverts has been given a further boost in two dramatically different ways.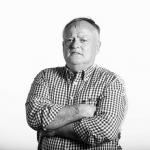 Words by

Nigel Adlam
Published

01 April 2020

A quirky, heartwarming television series starring a leading restaurateur reveals one of the Top End's great secrets – that Darwin is home to an extraordinary multicultural food scene. And a period action-thriller filmed in the Territory has been named among 15 must-see movies. The eight-part Jimmy Shu's Taste of the Territory, which is directed by Territorian Naina Sen and stars Darwin restaurateur Jimmy Shu, airs on SBS from April 22.
High Ground, which was shot in Kakadu National Park and Arnhem Land, was given a warm reception at its world premiere at the prestigious Berlin International Film Festival. The movie, which took the film festival by storm in February, was named as one of the world's 15 must-see films and follows the success of two hugely positive Territory productions, Sweet Country and Top End Wedding. Jimmy Shu's Taste of the Territory and High Ground were supported by the Northern Territory Government's Screen Territory, which plays a pivotal role in developing the Territory's screen industry by supporting individual screen practitioners and established businesses.
"The Territory's screen industry is thriving," says Screen Territory Director Jennie Hughes. "There is an incredible amount of talent here and we consistently punch well above our weight." The Territory's talented and ambitious screen industry has been energised by the Northern Territory Government's injection of $9 million over four years.
The investment has accelerated the development of the screen sector and is achieving significant results, both creatively and economically, as more screen productions are produced. The industry creates jobs for everyone from script writers to transport companies, from camera operators to hotels and food suppliers, creating a ripple effect of economic benefits.
The filming of High Ground contributed a production spend of $2,516,000 in TERRITORY SHINES ON THE SCREEN the Northern Territory, much of which was spent in remote communities. Exciting opportunities are opening up for actors, including many Indigenous people.
Aboriginal Territorians play significant roles in High Ground and first-time actor from Arnhem Land, Jacob Junior Nayinggul, has been described as "superb" in his role as a boy on the brink of manhood. Productions – whether full-length movies, documentaries, television and online series, or even adverts – are a chance to show off what is different and unique about the Territory: a rich, ancient Indigenous culture, creative and quirky characters, and some of Australia's most spectacular landscapes.
"It's all a great advert for our tourism industry, which is going through an extremely challenging time in light of the Australian bushfires and coronavirus global health pandemic" says Ms Hughes, who expends an enormous amount of energy on networking with industry decisionmakers and investors to find out what they want and encouraging them to look for it in the Territory.
There are now several film houses established in the Northern Territory, such as Brindle Films, Matt Wright's WFD Productions, Tamarind Tree Pictures, Global Headquarters and Exposure Productions. The Territory is competing in one of the world's toughest industries, but Ms Hughes believes the Northern Territory has much to sell – and is doing so with growing success. After moving from interstate to take up the role at Screen Territory, Ms Hughes suggested a food series showcasing the diversity and multiculturalism of Darwin's food scene to SBS.
This culminated in Jimmy Shu's Taste of the Territory – a joint initiative with SBS. "I was staggered by the diversity of the food – Greek, Italian, Indian, Nepalese, Bangladeshi, Vietnamese, Thai, Chinese… "And, of course, Indigenous food is now increasingly gaining recognition." Jimmy Shu's Taste of the Territory follows the likeable Jimmy Shu around the restaurants, produce providers, markets and Indigenous communities of the Top End.
The series not only showcases a fusion food scene unmatched anywhere else in Australia, but also tells the stories of the migrants who have helped shape the Territory as a unique destination as they make the Top End their home. "I love promoting the Territory," says Mr Shu. "We truly are a happy melting pot." Ms Naina Sen says directing the major series, which she co-produced with Sally Ingleton, was a labour of love. "It's a very intimate view of the Top End; it's much more than a food program," she says. "It explores something that most Australians don't know – that Darwin has a distinct multicultural mix." SBS Commissioning Editor of Entertainment and Food, Josh Martin says: "We are thrilled to partner with Screen Territory on this amazing series.
"Darwin is one of the most exciting food destinations on the planet and a series like this is long overdue. "The rich multiculturalism of Darwin, mixed with the laidback and welcoming attitude of Territorians, has created a food culture that mixes Asian influences, ancient Indigenous ingredients, Instagram-worthy creations and everything in between.
"This series is also a celebration of the locals who create these amazing flavours, set against the large, beautiful canvas that is the Territory's unique environment." The Territory is also making its mark on the screen industry in many other ways. For instance, the Northern Territory team of director Caro Macdonald and producer Alexandra Edmondson secured a $100,000 commission to make a documentary about Darwin's flamboyant "laksa queen", Amye Un. The 25-minute documentary, Give Us Green, Darling! was one of only three winners of the recent Witness pitching competition run by Screen Australia and international television channel Al Jazeera at the Australian International Documentary Conference in Melbourne.
Screen Territory is well on the way to fulfilling its 2018-20 Screen Industry Development Plan, which aims to have the Northern Territory widely recognised for its creativity, capability and professionalism – producing sought-after content, driving economic opportunity, innovation, and social and cultural value.
It provides grant funding for development and screen production, stages professional industry workshops and maintains a database of skilled Territorians, which it promotes and makes available to interstate and overseas producers. Crucial advice is also provided to producers on logistical issues, such as locations, filming permits, and Indigenous employment and collaboration. TQ
For more information, visit screenterritory.nt.gov.au