TANAMI: AUSTRALIA'S GOLDEN HEART
The world's leading gold miner is quietly creating wealth, jobs, training and other opportunities in the Northern Territory Outback.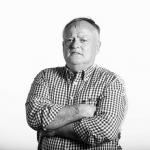 Words by

Nigel Adlam
Published

10 July 2023
Newmont has forged a close partnership with the Indigenous Warlpiri people to operate the underground Tanami mine, nearly 540 kilometres north-west of Alice Springs.
The long-life, world-class mine, which sits on Aboriginal-owned land, produces an average of 500,000 ounces of gold each year. Tanami Expansion 2 is expected to extend the operation's life to at least 2040.
Newmont Tanami general manager Justin De Meillon says the formal agreements with the Warlpiri mean the value of the land transformed by the mine is shared with Traditional Owners while supporting preservation of culture and heritage, and managing land restoration.
Delivery on land access commitments are supported by the Tanami Desert Ten Year Plan, a voluntary planning framework developed and established in collaboration with Warlpiri people, the Central Land Council and Newmont in 2017.
The plan is designed to deliver benefits across the Tanami region in line with Warlpiri aspirations and the pillars of education, employment and voice (governance and self-determination).
The mine continues to support the Central Land Council's community development role, which helps the nine Warlpiri communities within the Granites Mine Affected Area Aboriginal Corporation plan, implement and administer community projects.
Project funding decided by elected community committees in line with specific criteria is distributed across communities and overseen by the corporation's board of directors.
Newmont continues its long-standing strategic partnership with Tracks Dance, supporting the Milpirri Festival, which will be showcased outside of the Warlpiri community of Lajamanu for the first time in its 30-year history when a Milpirri sensorium features on the Darwin Festival program in August.
It also initiated and implemented a partnership with the Melbourne Football Club to extend chronic health prevention programs, community education and development outreach activities into Warlpiri communities in addition to support for the annual Alice Springs AFL match day.
Between 2020 and 2022, Newmont committed more than $500,000 to a range of health, economic resilience and food security responses delivered by local Aboriginal corporations, not-for-profit organisations and businesses via the COVID Global Community Support Fund.
In addition more than $200,000 was awarded in grants to community organisations in 2022, including the Central Land Council, Yuendumu Women's Centre, Alice Springs Ministers Association, and Batchelor Institute of Indigenous Tertiary Education.
There is also a long-term partnership with Charles Darwin University to support inclusion and diversity commitment aligned tertiary and vocational scholarships. The tertiary scholarships support the transition of scholarship holders into full-time Newmont positions by preferentially positioning them for entry into the Vacation and Graduate Talent Programs.
Tanami employs about 1200 staff directly and indirectly, about 40 percent from the Territory.
It prioritises local employment from Central Australia and strives to employ as many Territorians as possible, but finding skilled labour is always a challenge.
Newmont recognises that mining can be a dangerous business and has made an "unwavering commitment" to health and safety at Tanami.
"Our safety culture underpins our operations," Mr De Meillon says.
"As a global organisation, we benefit from learnings and best practice from across the Newmont sites.
"Our fatality risk management program requires critical controls to be checked as effective before work commences, and at Tanami frontline leaders are trained in this program and verify controls at each shift.
"Any significant potential events from across Newmont sites are reviewed using a structured process to ensure findings are hardwired into our safety standards to strengthen our controls and prevent repeat incidents."
Newmont globally is committed to a 30 percent reduction in emissions by 2030.
"Tanami has a key role in Newmont's vision for zero emissions mining." In 2021, Newmont announced an alliance with Caterpillar to deliver a fully-connected, automated, zero-carbon emitting, end-to-end mining system. Tanami mine will test and develop new battery electric haulage technology for underground mining, followed by the introduction of battery autonomous technology – an industry first.
"Over and above this significant partnership, Newmont Tanami continues to progress studies for the development of renewable energy projects on site."
Newmont Tanami is one of the company's key assets globally.
"Through a number of significant discoveries and investments, we have set up the mine to be a long-term asset for the Northern Territory economy," Mr De Meillon says.
FACT FILE
In 2022, Newmont Australia produced 1,282,000 ounces gold – from Tanami and Boddington in Western Australia – making it Australia's largest gold producer
Newmont Tanami contributed about $150 million of royalty-related taxes to the Territory Government last year, which makes it one of the single biggest contributors to NT coffers, as well as about $400 million corporate tax to the Federal Government.
The mine contributes millions of dollars more each year through the employment of Australians, buying goods and services, and land use payments.
Tanami is estimated to contain about 35 million tonnes of proven and probable reserves graded at 5.31 grams per tonne.