SUZANA TAKES CENTRE STAGE
One word sums up Suzana Bishop, the new chief executive of Northern Territory Major Events Company – energetic.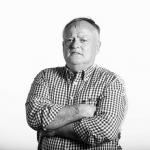 Words by

Nigel Adlam
Published

30 March 2023

The Brazilian-born events and marketing expert, who has lived in Australia for more than 20 years, exudes enthusiasm and vigour.
She's happy about moving to Darwin with her family; excited about the prospect of staging more major events, from sports to culture; and passionate about helping grassroots community groups put on their own shows.
And she's excited about continuing the private enterprise ethos that has helped the NT Major Events Company (NTMEC) become such an effective and efficient organisation.
"I'm passionate about business in general," she says.
NTMEC, set up by the Territory Government in 1999, stages the Territory's largest, most eye-catching events, some on its own, some with partners.
They include Million Dollar Fish, underwritten by SportsBet, National Rugby League matches, Parrtjima – a Festival in Light, BASSINTHEGRASS Music Festival, Territory Day celebrations, the betr Darwin Triple Crown, Alice Springs Masters Games and Red CentreNATS.
The organisation has also attracted a raft of other major partners across its portfolio, such as Coca-Cola.
As well as staging events, NTMEC supports a range of unique community events, and has created a selection of guides on how to organise an event.
Suzana was chief experience officer at Melbourne's Federation Square for four years, where she was involved in staging everything from open-air concerts to televised global sport events, such as the World Cup.
She accepted the job in Darwin for three reasons.
"It's a challenge to lead a major events organisation and lead their evolution, their next phase. It's exciting.
"The Territory punches above its weight when organising events. There's an appreciation here of the economic and social impact of major events. And the way major events improve liveability.
"That appreciation comes not just from the Territory Government but also from business and the community.
"And then there's the destination itself. The Territory is a unique place. It's so close to Asia. There's so much opportunity here.
"I'm a creative individual. I'm attracted to things that are different. I love exploring. I like to mix and match."
Suzana is a great believer in "continuous improvement" rather than sitting on your laurels, and promises to "leave no stone unturned" in examining how to stage more, and better, events.
She is keen to broaden the events calendar – "maximise what we offer across the year" – partly by building the capability of other event organisers.
"We do a lot of things really well, but there are times when we can do more.
"We can help other organisers. After all, we know what's happening in the events field, so we can be a super connector – connecting various people, such as sports and culture."
Suzana was born in Sao Paulo, which has a population of more than 22 million – almost the same as Australia's entire population – and a climate not too dissimilar to Darwin's, with 95 per cent humidity at some times of the year.
She spoke little English until spending an exchange year in a town smaller than Alice Springs in Wisconsin, United States, where the temperature in winter often plunged below freezing point.
"Everyone else wanted to go to California or Miami. But I knew if I went there I'd just hang out with Brazilians. I wanted to go somewhere that would put me out of my comfort zone and make me mix with the local community."
After gaining a degree in public relations from a university in Sao Paulo, Suzana lived in France, where she made new Aussie friends.
She decided to move to Australia to do an executive master's degree in business management at RMIT in Melbourne. She also met a man named Ben, who would become her husband.
They have two boys: Joshua, 16, and 12-year-old Oliver, who is mad keen on basketball and has already joined the Essington Cannons.
"I've settled in Darwin very easily – everybody has been so welcoming.
"And it's warm enough to swim here, which I love."
Suzana loves the weather, she loves events and she already loves the Territory. NTMEC is in good hands.
NTMEC Chairman Alistair Feehan says Suzana's appointment marks "an exciting new chapter for the company".
"With years of experience in delivering destination events and experience strategies, we know Suzana will be a strong advocate for delivering exceptional events that drive visitation and generate incredible results for the Territory economy," he says.
Mr Feehan thanks outgoing chief executive Tim Watsford for his "steady and innovative leadership" since 2018.