SANTOS
SANTOS TO POWER THE NORTH
Santos Managing Director and Chief Executive Officer Kevin Gallagher recently outlined Santos' 2021 Northern Territory plans at Chief Minister Michael Gunner's 2021 Year Ahead speech.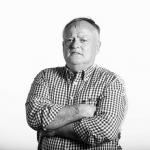 Words by

Nigel Adlam
Published

01 April 2021

Santos Managing Director and Chief Executive Officer Kevin Gallagher recently outlined Santos' 2021 Northern Territory plans at Chief Minister Michael Gunner's 2021 Year Ahead speech.
The Year Ahead event, held at the Darwin Convention Centre, included presentations from the Territory Government and leading Top End businesses and offered them an opportunity to outline their hopes and aspirations for 2021.
Mr Gallagher began by congratulating the Northern Territory community on its health and covid response while at the same time keeping the economy open and maintaining social normality more than any other Australian state or territory.
"It's something you should be very proud of," he said.
In December 2020, Santos' board and many of the company's senior executive leaders spent a few days in Darwin to speak with businesses, government and the community about the exciting and significant opportunities ahead for the Territory.
"2021 is shaping as an exciting year for the Northern Territory and for Santos, as a proudly Australian company," Mr Gallagher told the event.
"As I said at the time we purchased the Conoco assets, Santos wants to make Darwin and the Northern Territory a core part of our universe.
"Through Darwin LNG, we are already part of the community fabric in the NT, employing 130 local Territorians and, importantly, we are committed to apprenticeship and training opportunities for young people.
"We are very focused on ensuring our workforce lives locally and is a strong part of the community, and the same goes for our contractors and supply chain – wherever we can employ local or buy local we will.
"As I committed to the Chief Minister in December, we will do the right thing, protecting water and the environment, and we are committed to supporting local employment, local businesses and Indigenous communities in everything we do." Mr Gallagher said there had already been "big news" in 2021 from Santos in the Northern Territory, with the final investment decision taken for the $300 million Phase 3C infill drilling program at the Bayu-Undan field in the Timor Sea.
Sanction of the drilling program comes less than seven months after Santos became operator of the Bayu-Undan Joint Venture following completion of the acquisition of ConocoPhillps' Northern Australia and Timor-Leste assets.
The infill drilling program adds more than 20 million barrels of oil equivalent gross reserves and production at a low cost of supply and extends the life of Bayu-Undan.
"Extending the life of the Bayu-Undan field means more jobs and investment for Territorians and reduces the period of time Darwin LNG is offline before the Barossa project comes on stream.
"In the first half of this year, we expect to take a final investment decision on the Barossa offshore gas project, about 300 kilometres north of Darwin."
Barossa is a globally competitive, low-cost brownfield LNG project providing new supply into a tightening LNG market.
The Barossa project will also importantly pump millions of dollars into the Territory economy in goods, services and wages every year.
"At the end of last year, we finalised the tolling arrangements for Barossa gas to be processed through Darwin LNG and signed a long-term LNG sales agreement with Diamond Gas International, a wholly-owned subsidiary of Japan's Mitsubishi Corporation," Mr Gallagher said.
"Barossa, combined with Darwin LNG upgrades that will occur when Bayu-Undan production ends, will bring new jobs and business opportunities to the Territory.
"That's good news for Darwin and Territory communities, and locks in Darwin LNG's future for decades to come – at least until 2040.
"In addition to the Barossa project, there are exciting opportunities for the Territory and Santos in the Beetaloo basin.
"We plan to drill two onshore wells this year in the Beetaloo basin and if they are as resource rich as we think they are, they will be a real game changer for Australia, securing domestic gas supplies for decades and providing wealth-generating export opportunities for the nation."