CENTRE FOR APPROPRIATE TECHNOLOGY
REACHING FOR THE STARS
The tremendous irony and inspiration of the occasion were not lost on anybody.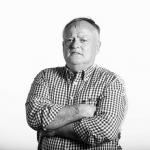 Words by

Nigel Adlam
Published

01 October 2020

A group of Indigenous men, proud representatives of the world's oldest surviving culture, were assembling two world-class satellite dishes in the Australian Outback for an American space company. And they were doing it well and at speed.
Engineers from space launch conglomerate ViaSat watched the assembling taking place from the United States on a real-time video link and were mightily impressed at the speed and efficiency with which the Indigenous workers went about their task.
The men were working at the Centre for Appropriate Technology, an Indigenous-owned not-for-profit organisation with a grand mission: to find fit-for-purpose solutions to the technical and engineering challenges faced by remote communities.
CfAT is hosting a range of space related infrastructure, including two of ViaSat Remote Earth Observation ground stations and Arian Group's GEOTracker satellite station, partnerships that strengthen the Northern Territory's role in the trillion-dollar global space industry. There are hopes that Indigenous people will be trained to collate and translate the data collected by the tracker.
Chief Minister Michael Gunner says this is the kind of innovative project – a small Aboriginal owned Territory organisation partnering with a $5 billion-a-year company – that will create wealth, jobs and training opportunities. CfAT and its wholly-owned commercial arm, Ekistica, which is active in six Asian countries, are delighted with the satellite dish contract – they recognise that it is glamorous and makes headlines.
But their core work is developing ways to ensure remote and regional communities across Australia and Asia-Pacific, most particularly remote Indigenous communities, are able to access reliable power, water supply, digital connectivity, built infrastructure, training and skills development.
Although projects concentrate on Indigenous communities, the solutions – whether creating hotspots for mobile phone connections, using solar power to maintain vital services or designing appropriate homes – can be applied to any remote community, whether a township, outstation or cattle property.
And the solutions can be exported. For instance, working through Ekistica, CfAT has improved the lives of thousands of people by transposing award-winning energy technology developed in the Northern Territory to Indian villages.
As chief executive Peter Renehan says, the idea is not to fight remoteness but to deliver practical, clever solutions and services that make living, visiting and doing business "on country" better for everyone.
"We use technology to help people live better on their own land. We pride ourselves on developing the technology that is needed. We care about the social benefit for Aboriginal people, who don't have to be passive end-users – they can take part."
One of the added benefits of CfAT's work is the training opportunities for Indigenous people – everything from assembling the $3 million satellite dishes to auto mechanics and making furniture for swanky shopping centres in Sydney.
Thousands of Aboriginal people have been trained since the organisation was founded 40 years ago. Ekistica managing director Lyndon Frearson says Aboriginal people are nearly always seen as "suffering" from the impact of remoteness. But he says the challenges of geography can be overcome by innovative thinking.
"We create technology that works and can be used in any remote community and even exported."
Capacity and capability are being developed – demonstrating that innovative solutions can be achieved, and Indigenous people can be trained to do the work. Both Ekistica and CfAT have often come under pressure to move from Alice Springs – people have argued that a headquarters in a larger town would make it easier to attract skilled staff.
But the boards of both companies have always resisted the move, arguing that they need to be near the people they serve, not only for logistical reasons but to build skills among local people and to ensure that the organisations maintain a connection with the challenges and opportunities of remoteness.
And, anyway, CfAT and Ekistica attract highly motivated experts to the pretty little town in the Outback because they offer the chance to work on ground-breaking, challenging and rewarding projects.
Much of the work centres around providing efficient energy sources and improving mobile phone and internet coverage. As an example, a string of communication "boosters" have been installed, including a string of them along the Stuart Highway and major arterial roads such as the Lasseter Highway.
"Aboriginal people came to CfAT saying they wanted better mobile phone coverage, not just for themselves but for everyone's enjoyment and safety," says Mr Frearson.
"We looked at the challenges and overcame them. We've built up a good reputation – not just in Australia but internationally – for problem solving. And that's because we're informed by our remoteness, not scared of it."
CfAT and Ekistica have many projects underway beyond hosting two ViaSat satellite dishes alongside the ArianeGroup dishes at their eight-hectare headquarters on the outskirts of Alice Springs.
Last year, Ekistica oversaw the delivery of more than $600 million of new infrastructure around Australia and provided advice on over $2 billion worth of infrastructure acquisitions, while also leading energy projects in Papua New Guinea and Palau.
The six core functions of CfAT and Ekistica are:
• Technology innovation and application
• Applied project design, management and professional services
• Community engagement, planning and facilitation
• Place-based accredited training, skills development and capacity building
• Aboriginal and Torres Strait Islander enterprise and jobs
• Infrastructure design, engineering, construction and fabrication
A workshop trains Indigenous people in making metal products, everything from ablution blocks to shopping mall bench and seating. Remote houses, laundries, sheds and toilet blocks are also designed, constructed and maintained.
And water supplies are maintained. All this work makes life on remote communities more sustainable – ensuring that people who want to stay on country can do so while enjoying many of the things people in town take for granted. TQ