McArthur River Mine
PERFECT COLOUR FOR CHARITY
Two of McArthur River Mine's 191-tonne haul truck trays have been painted blue and pink to raise money and awareness for cancer.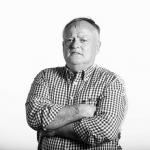 Words by

Nigel Adlam
Published

01 January 2020

The mine has taken advantage of an upgrade to its haul fleet to raise awareness of breast and prostate cancer.
The trucks – normally decked in mine yellow – have just entered into full service in their colourful new livery.
HR graduate Haris Cooper was one of the team behind the pink truck for breast cancer.
"People came up with the idea and we ran with it, and you can see the result here now. We've raised over $10,000 so far and it's still growing. It's an awesome result."
There is friendly rivalry between the pink team – raising money for breast cancer – and the blue team – raising money for prostate cancer, with both trying to outdo each other through on-site fundraising.
"There's some rivalry between the teams, potentially, but we started first, so we know where they went. You look around site and you see all the pink shirts and the blue shirts and it's good to see all that engagement."
Survey technician Zarn Hatch is one of the employees raising money for the blue team.
"It's been a great project to work on – a great effort from all involved. There has been a whole lot of people working behind the scenes to get the project off the ground and it has been a lot of fun.
"You can just jump on the prostate cancer fundraising page where there are a lot of people trying to raise money and awareness. We're just one of them."
Michael Schneider also worked on the blue truck project.
"It's great to think we can continue this on over the years. Obviously the foundation stage is still open at the moment, so donations are still coming in."
The blue team has so far raised more than $15,000 with the pink team not far behind on $10,500.
Every employee who donates more than a certain dollar value is rewarded with either a pink or blue shirt, depending on the charity of their choice.
The blue shirts were donated by Darwin company Atom Supply, one of MRM's valued suppliers.
A third truck painted white will soon go into service for Mates in Mining, a service preventing suicides in mining communities across Australia.
McArthur River Mine was the first mine site in the Northern Territory to become an accredited Mates in Mining community.
This was achieved by training all staff in suicide awareness and selected staff as supporters to help those who may need help.
The charity trucks fundraising efforts are in addition to activities held earlier in the year at MRM for the Mother's Day Classic and Run with Dad, for father's day.
At those events – supporting national events held in Darwin – staff raised nearly $5000 for breast cancer and prostate cancer support, which was matched dollar for dollar by the company. TQ
About breast cancer
53 Australians are diagnosed with breast cancer every day
More than 3000 Australians will lose their lives to breast cancer this year
8 women lose their life to breast cancer every day in Australia
About prostate cancer
2nd most common cancer diagnosed in men in Australia
3rd most common cause of cancer death.
One in seven men will be diagnosed with prostate cancer by the age of 85
About Mates in Mining
Provides suicide prevention and intervention skills and suicide awareness to the Mining Industry
Offers a three-tiered program to raise awareness and provide direct support to those in need
Suicide remains the leading cause of death for Australians aged between 15 and 44