Darwin Innovation Hub
PASPALIS VENTURE CAPITAL PROVIDES A BOOST TO NORTHERN TERRITORY START-UPS
In May 2019, Paspalis invested $2 million directly into SPEE3D as part of their Series A fund raising strategy, marking a significant financial achievement in the economic narrative and history of the Northern Territory.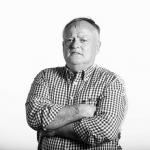 Words by

Nigel Adlam
Published

01 July 2019

The Paspalis Innovation Investment Fund (PIIF) has begun building its track record in 2019 with some world-class investments and projects at the Darwin Innovation Hub.
Harley Paroulakis states, "This is a fantastic advanced manufacturing technology. I've faith that SPEE3D can take this Territory-born technology to the world."
"Hats off to CDU, the Northern Territory Government and Aus industry for providing the support SPEE3D needed through their early stage of development. It's the proof of concept and developmental years that are the hardest and it's wonderful to work in an environment where this support is available."
Paspalis investment in SPEE3D will assist the company to capitalise on its first mover advantage and stay ahead of its competition as it builds international market share establishing SPEE3D as one of the world's most exciting additive manufacturing technology companies. These precious funds will be used to employ key business development managers, develop improved machines and market the sale of machines into new markets. SPEE3D has also signed a collaboration agreement with the Darwin Innovation Hub to develop new sales channels in international markets such as China.
The investment validates the economic value and potential of the company and encourages this fast-maturing start-up to establish a larger board and governance structure that is able to better serve the company as it transitions from being an Australian innovator to a global dominator.
Steven Camilleri tells us, "Finding venture capital locally was fantastic. It demonstrates the kind of can-do attitude that makes the NT an incredible place to do business and get things done."
For more information on Paspalis Venture Capital initiatives go to paspalis.com.au