OUR CULTURAL HEARTLAND
An Indigenous singer will be the headline act at Facing North.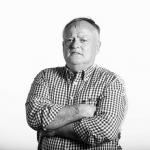 Words by

Nigel Adlam
Published

10 July 2023

Ngulmiya Nundhirribala, who comes from Numbulwar in Arnhem Land, will perform work from his self-titled album with his son Nayurryurr and two other Territorians, double bass player Anthony Gray and violinist Emma Williams.
The senior ceremony man, who has been performing for more than 20 years, is in demand around the world.
Ngulmiya danced at the opening ceremony of the 2000 Sydney Olympics and sang at the latest Barunga Festival.
"He's a once-in-a-lifetime talent," says Mr Gray.
Arnhem Land continues to produce a string of world-class musicians.
Guests at Facing North will be treated not just to a haunting blend of ancient Aboriginal and contemporary music but also to a taste of the bush foods that have been eaten by Indigenous Territorians for tens of thousands of years.
Kakadu Kitchen and Kungkas Can Cook will serve the ultimate fusion food, which they can wash down with an-marabula, a non-alcoholic native peach and de-alcoholised white wine bellini.
"It's a very exciting event," says Kakadu Kitchen managing director Ben Tyler. "There will be great creativity in the dishes."
The politicians and business people will be able to sample Kakadu Kitchen's Top End bush foods and Kungkas Can Cook's Central Australia cuisine.
Mr Tyler plans to serve a range of canapes, using green ants, crocodile, barramundi, water lilies and yams.
Rayleen Brown, co-founder of Kungkas Can Cook, will serve an array of traditional bush tucker, such as kangaroo, bush tomato relish and quandong.
"Bush food is all around us – you just need to know how to look," she says. "It's an emerging industry. The day will come when bush food is on lots of menus."
The Northern Territory is, in many ways, the cultural and spiritual heart of Australia.
Many of the nation's great musicians, athletes and artists come from the NT.
Bands such as Yothu Yindi have become global stars. AFL players such as the Riolis and Motlops have set new benchmarks in the game – the NT News once produced statistics to show that your greatest chance of playing in an AFL grand final was to be born in the Territory.
And traditional painters from the most remote of communities have their paintings hung in galleries around the world.