OUR COMMUNITY. OUR FUTURE. OUR HOMES.
A housing program that promises to improve the lives of people living in the Northern Territory's remote communities is underway.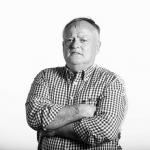 Words by

Nigel Adlam
Published

20 January 2023
The Northern Territory and Federal governments are investing $2.1 billion in the project with five core aims:
• To reduce overcrowding and improve living conditions
• To enhance local decision making and engagement with communities
• To develop Aboriginal businesses
• To create sustainable local employment
• To power economic development.
One of the communities to benefit from the Remote Housing Investment program – known as Our Community. Our Future. Our Homes. – is Gunbalanya, 300 kilometres east of Darwin.
Rhonda Manbawan, a tenancy officer with Department of Territory Housing, Families and Communities, says the Government program will help ease the overcrowding.
The program is making progress with the completion of a new 24-lot subdivision to prepare for new homes to be built.
In total, 45 new homes will be built in the community and an additional 67 bedrooms added as home extensions.
The first tranche of works to be delivered is worth $23 million and includes 24 new homes under the HomeBuild program and nine existing homes being extended and refurbished under the Room to Breathe program.
The three-year project is being carried out through a joint venture by the Gunbalanya-based Demed Aboriginal Corporation and Darwin-based, Indigenous-owned construction company Dice.
At least nine Indigenous apprentices will be trained in trades, such as electrical work, plumbing and carpentry, during the project.
Demed and Dice have three main aims: to ease overcrowding, train local workers, and create a workforce that can build and repair homes in their own community.
"This program is long enough for us to take apprentices all the way through their training," says Demed chief executive John Thomas. "We want to give people a purpose to their day.
"We are interested in the social aspects of this project. We want to build a good future for the community. My board wants jobs for their grandchildren.
"We want to build up a core skilled workforce so that eventually we can compete against other businesses for contracts.
"We don't always want to be relying on government grants. We want to be self-sufficient and successful.
"This is a good beginning. We want to build from here."
Dice managing director Ray Pratt says: "We want to create real, longterm jobs.
"This is a great initiative. It ticks every box. Many contracts are only short-term, which means the jobs are short-term. But this will allow us to put people through a whole apprenticeship. And that will transform people's lives.
"This is a huge step forward."
He says a core workforce will raise self-esteem and lift the whole Gunbalanya community.
"I've seen it in my own company. Our Indigenous workers take pride in wearing our logo. They boast about it.
"Aboriginal workers will be proud to build their own houses."
One of the subcontractors working on the project is MBL, which is owned by Brendan Lew Fatt, a member of a prominent Territory Indigenous family, and Michael Billias, who were both Dice apprentices.
"We've proved that we can train apprentices," says Mr Pratt. Demed and Dice, who are working at Gunbalanya throughout the wet season, fought hard to win the contract.
"There's a feeling that Indigenous companies only have to put in a tender to win it. That's not true. They have to be competitive."