Chamber of Commerce
NT EXPORT AWARDS A SOURCE OF PRIDE
The Northern Territory's most unusual business was delighted to be named NT Exporter of the Year in 2021.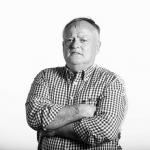 Words by

Nigel Adlam
Published

19 July 2022
The Northern Territory's most unusual business was delighted to be named NT Exporter of the Year in 2021.
Asia Pacific Aircraft Storage, which "parks" unused planes, including huge passenger jets, at Alice Springs Airport, triumphed at the Chief Minister's NT Export Awards.
Managing director Tom Vincent says the win was "fantastic recognition" of the efforts made during the covid pandemic.
He says it allowed staff to "step back and recognise what we have managed to achieve over the last 10 years".
"It was a fantastic evening and an award that means a great deal to everyone in the APAS Group."
APAS is continuing to build infrastructure at the airport, such as a high-power engine run bay capable of accommodating any aircraft, including the A380, and sealing about 50,000 square metres of apron.
It is the only aircraft storage and maintenance company in the Asia Pacific region – and is competing successfully with major operations in the United States.
The business exports its services to a growing number of clients and has customers in New Zealand, Singapore, Nauru, Ireland, Iceland, Hong Kong and the United Kingdom.
Alice Springs was chosen for several reasons, including the dry Centralian weather being perfect for protecting aircraft from corrosion; no ban on night-time flying; proximity to the AustralAsia railway; and the length of the runway.
Another groundbreaking winner at the NT awards was Monsoon Aquatics, which won the Small Business Award at the NT event and went on to take the national crown.
The company sells live coral, shrimps, hermit crabs, clams and five species of fish: Monsoon Wrasse, Darwin Glow, Scribbled Angels, Marginalis and Harlequin Tusk.
The export awards recognise the outstanding achievements and success stories of Territory exporters.
They are coordinated by the Chamber of Commerce NT with support from Austrade and the Department of Industry, Tourism and Trade.
Nominations for this year's awards have closed. Winners will be announced on 7 October. NT winners progress to the national finals.
Chamber of Commerce NT chief executive Greg Ireland says: "The fact that a Northern Territory business, Monsoon Aquatics, was awarded the 2021 National Exporter of the Year could not come at a more appropriate time in our history.
"Never before had an NT business been the overall winner and they, along with the local and national category winners, have achieved a significant boost to their reputation and international credibility as a result.
"There is a strong link between success and reputational strength and for these reasons, success at this level delivers a competitive advantage.
"These awards can validate your business and help evolve your business story into one that places you as a leader in your field.
"I strongly encourage business to actively seek this success and showcase your business to the world."
The Territory punches above its weight in the awards.
As well as Monsoon Aquatics, other Territory-owned businesses to win national awards are SRA Information Technology (2017), Charles Darwin University (2014), Australian Skills Training and Alice Springs Helicopter (both in 2009) and Energy Resources of Australia (2008).
There are 13 categories:
Advanced technologies
Agribusiness, food and beverages
Creative industries
E-commerce
Emerging exporter
International education and training
International health
Manufacturing and advanced materials
Professional services
Regional exporter
Resources and energy
Small business
Sustainability
The NT Exporter of the Year is chosen from the category winners.