MAKING OUR CLEVER IDEAS BEAR FRUIT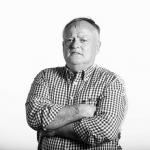 Words by

Nigel Adlam
Published

30 September 2022

A national agency is offering the Northern Territory's oftenhidden army of innovative manufacturers the kind of help that could be the difference between a clever idea going nowhere or a clever idea going to market.
The Advanced Manufacturing Growth Centre (AMGC), in conjunction with the Northern Territory Government, has already notched up a hat-trick of successes in the NT through the dedicated co-investment Advanced Manufacturing Ecosystem Fund.
It started by awarding co-investment to a Darwin-based company, Corrosion Instruments, to develop automated testing equipment for the local manufacture of its cathodic protection products.
Cathodic protection is a technique used to control the corrosion of a metal surface – critical in the Territory because metal corrodes much faster in the tropics, especially in warm waters, than it does in cooler climates.
Corrosion Instruments owner Sam Pattemore says: "Ensuring effective application of cathodic protection is critical to ensuring the longevity of major infrastructure. Without it, infrastructure such as pipelines, wharves, bridges and tunnels would not meet their design life.
"Automatic monitoring of cathodic protection provides certainty of its application and enables preventative maintenance and fast response to failures in the cathodic protection system." AMGC's second success was to forge an exciting $4.45 million partnership between measurement and solutions company Diverseco, Charles Darwin University and the Territory Government to set up an advanced manufacturing hub in Darwin, while developing training and micro credentials to support upskilling of the Territory's workforce.
The hub will house robotic and bespoke automation products and services to support Territory manufacturers with world-class technology, such as robotic welders, automated pick-and-pack systems and product-inspection services.
Diverseco's deputy chief executive Elizabeth Panayi says Territory manufacturers will have access to support from concept through to implementation and training through the use of collaborative cobots or industrial robots.
"Cobots are compact, intuitive and flexible, purposely designed for direct human interaction within a shared, collaborative workspace," she says.
"Cobots contrast sharply with industrial robots, which are typically large and fixed systems, ideal for production environments that are very heavy duty or that may require higher payloads, longer reach, or higher through-put and cycle speeds."
The robotic and automation services will also be supported by training and certification courses endorsed by Charles Darwin University, a first for the Top End.
AMGC's third grant was awarded to Alice Springs-based Air Tip. Owner Clarke Petrick, who is a geophysicist by profession, has invented the world's first air-powered side-tipping trailers.
Air Tip uses a truck's existing pneumatic system at 100psi, rather than having to fit an entirely new hydraulic system at 3000psi and costing $20,000.
There is no longer a need to use power take-offs, hydraulic pumps, oil tanks and hydraulic oil.
It is being hailed as a major advance in side-tipping technology.
Mr Petrick, who last year bought Ross Engineering, is using the co-investment grant to increase local design and manufacturing capability in Alice Springs.
AMGC's Territory Director Charmaine Phillips says there is untapped manufacturing potential in the NT across all industry sectors.
"By embracing technology and engaging with research institutions, manufacturers have the ability to add value to their operations and products, allowing businesses to compete on value, rather than cost, by offering products of higher quality or better features than competitors."
AMGC's smiley-curve graphic demonstrates the Territory's opportunities – where manufacturing is expressed as seven distinct steps encompassing higher skilled and value jobs of R&D, design and logistics on one side, with distribution, sales and service flanking production on the other.
"The production part of manufacturing, while important, is only one component of the value generation in a product," Ms Phillips says.
"To generate maximum value, manufacturers should be seeking opportunities in these pre and postproduction value-add areas.
"We want to change the perception of what manufacturing is. People think manufacturing is the production of something tangible, something you can hold. That's not always so.
"Advanced manufacturing is about using the technologies available, such as automation, digital technologies, artificial intelligence and internet of things to name a few – to be smarter in how you make things.
"Some businesses are a part of the manufacturing smiley curve without truly knowing it."
She says the Territory – and Australia as a whole – needs to step up highvalue manufacturing or risk being "left behind" in an increasingly competitive world.
AMGC offers support to manufacturers wanting to prove a concept and can also help steer a product or service to commercialisation.
Ms Phillips aims to visit businesses because she knows that most business people are usually too busy simply running the business.