TERRITORY ECONOMIC RECONSTRUCTION COMMISSION
LET'S ROLL OUT RED CARPET FOR INVESTORS
Former US presidential advisor Andrew Liveris and former Chief Minister Paul Henderson are united in their belief that the Territory can overcome all obstacles to achieve its ambitious economic targets.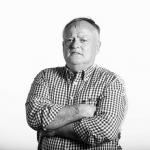 Words by

Nigel Adlam
Published

01 January 2021

The co-chairs of the Territory Economic Reconstruction Commission are realistic about the task ahead – a herculean effort to turn round the NT economy in a post-covid world.
But they say: "The Territory can do it." They believe that the NT's economy can grow significantly through onshore oil and gas, becoming a hub for renewable energy, developing a gas-powered manufacturing industry, increasing agriculture, setting up sustainable economic precincts, pursuing mining opportunities and growing tourism, particularly Indigenous tourism.
The aim is to grow the economy by 3.9 percent a year to $40 billion by 2030. Deloitte Access predicts growth of only 1.5 per annum for the next five years – better than other jurisdictions in a post-covid climate but still not enough to reach the $40 billion target.
The TERC report says to increase growth above the predicted rate "requires an unrelenting laser focus on getting all the required conditions to go right".
Mr Liveris says this will require massive private investment supported by Government spending. He says the Territory has achieved these growth rates before and with "sustained and focussed effort" can do it again.
But the Territory Government and business need to put the case for investing in the NT to boardrooms around the world. "We need to roll out the red carpet," he says.
That doesn't mean diluting environmental protection – but it does mean making it easier and more attractive for business to invest in the Territory, including detailing Government incentives, such as land and infrastructure deals, and native title resolution if necessary.
Mr Henderson says: "We're not selling our story. CLP and Labour governments have done it in fits and starts since Self-Government, but now we've defaulted to being passive, waiting for investors to knock on our door.
"We must understand why people should invest in the Territory and we've got to make it as easy as possible for them to do that without lowering environmental, sustainability or health and safety standards."
Mr Liveris says the Territory must follow global industrial growth trends or risk falling further behind. He says it is "critical" that the Territory capitalises on the vast gas resources of the Beetaloo Basin – every dollar spent on onshore oil and gas development has a value-added effect of $8.
Advances in digitalisation is an opportunity to ease the NT's remoteness. An increase in self-sufficiency in supply chains and manufacturing would grow local manufacturing.
The world-wide commitments to net zero emissions offers opportunities for the Territory to promote decarbonisation supply chains and pathways, and opportunities for solar and hydrogen power.
And the rise of Asia is an opportunity to trade north rather than south. Aboriginal Territorians can benefit greatly from the economic upturn. The TERC report says Indigenous people will be "front and centre" of economic development as landowners, investors, partners, employees and community members.
KEY REASON TO INVEST IN THE NT
• World-class mineral wealth
• A strong agricultural sector
• Access to water
• A strategic defence location
• Solar resources
• Onshore oil and gas
• A deep-water harbour
• Proximity to the growing economies of Asia
KEY TERC RECOMMENDATIONS
• accelerating industry growth to drive demand for competitively priced renewable energy, supporting investment in renewable energy for export, and preparation for the development of hydrogen
• the Territory continues to partner with the Australian Government and industry on gas developments such as the Beetaloo Sub-basin, on the basis that development is subject to commercial feasibility and adherence to legislation, including relating to Aboriginal interests
• the Territory implement a decarbonisation plan, including interim targets, that will deliver growth and net zero targets, position itself as a key research and development location for low emissions technology, facilitate growth of carbon offsets, and look to take advantage of the growing demand for zero emissions supply chains
• the Territory rapidly progresses manufacturing opportunities in low emissions petrochemicals, renewable hydrogen, minerals processing, and food-related processing. Master plans to target low emissions design and electrification, bringing the Territory's resources, renewables and gas assets together
• urgently standing up a Territory Minerals Development Taskforce to target new mines, using the master plan approach to target investors and new demand markets – particularly to activate existing leases; increase exploration to discover new resources and help prove up existing ones; develop minerals processing opportunities
• driving Sustainable Development Precincts, integrating strategy across the industry, supporting development of Aboriginal-led Agribusiness enterprises and pursuing opportunities through value add, such as manufacturing
• building the business case for private and government investment, with full engagement of Traditional Owners, in World Heritage Kakadu and Uluru-Kata Tjuta, Territory Government parks and developing iconic Aboriginal cultural tourism projects