THE NATIONAL CRITICAL CARE AND TRAUMA RESPONSE CENTRE
LEN HONOURED BY WORLD BODY
When Professor Len Notaras AO was recruited into the world of trauma response in the aftermath of the Newcastle earthquake in 1989, he had never anticipated his career would lead him to working alongside the World Health Organisation.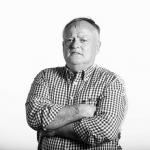 Words by

Nigel Adlam
Published

22 December 2021
A career that he can only explain as "breathtaking" has led to his recent appointment as the Chair of the WHO Emergency Medical Team Strategic Advisory Group.
"This appointment is an enormous honour," he says.
"It's been a great privilege to live and work in the Northern Territory, to establish the National Critical Care and Trauma Response Centre and, indeed, to work alongside the Federal Government, the NT Government and a series of different nations."
The EMT-SAG is made up of 18-20 members, representing a broad range of groups, including the WHO and the United Nations, the Red Cross, EMT recipient states, EMT providers and regional multilateral organisations with specific EMT mechanisms.
The two-year appointment has been endorsed by the Australian Government and comes as a result of a long history in disaster response.
Professor Notaras coordinated the Royal Darwin Hospital response to the 2002 and 2005 Bali bombings, the evacuation and retrieval following the assassination attempt on then President of Timor-Leste Dr Jose Ramos-Horta, events at Ashmore Reef in 2009 and Australian Medical Assistance Team deployments over the past decade.
"NCCTRC were instrumental in advancing the role of EMTs," he says. "The EMT initiative is all about standards, it's about capability, it's about making a difference within an affected community and it's about anticipating disaster at short notice.
"The EMT initiative plays an important role in the global health workforce and the covid-19 pandemic has demonstrated the value of continuing to ensure teams have training and equipment, are self-sufficient, credentialed and meet minimum standards."
Professor Notaras wholeheartedly believes the Northern Territory is to thank for his appointment and all the opportunities the jurisdiction has provided him throughout his career.
"The Northern Territory well and truly punches above its weight," he says. "In terms of emergency medical response, Darwin and the NT have proven to be a strategic location when responding to disasters across Southeast Asia and the Pacific.
"The Top End truly is the gateway to the world.
"The Territory itself deserves a significant accolade. It was no accident that AUSMAT and NCCTRC have become pivotal in disaster preparedness and response as a result of our location. It's an enormous privilege to be here."
As Professor Notaras takes on his new and exciting opportunity alongside the WHO, he will also continue in his role as Executive Director of NCCTRC.
He is excited to continue facilitating an avenue for medical professionals to best respond to crises.
"This is an incredibly exciting opportunity, and I look forward to contributing to the good work of WHO and the work of all of the various EMTs. I hope to make a positive difference in assisting EMTs across the world."