Shorelands
KEEPING IT IN THE FAMILY
Arthur Hamilton's son Jack was only 10 when he started working in his dad's workshop.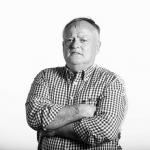 Words by

Nigel Adlam
Published

01 January 2020

He soon found himself working there every school holiday.
Veteran mechanic Glen Freeth helped trained the boy until he was a qualified heavy diesel mechanic – and then retired.
Jack is now 25 and the crane supervisor at the Darwin-based Shorelands Group of companies.
Arthur loves Darwin but thought his son needed to work elsewhere for a while to gain valuable experience and independence.
So Jack went to work for a big crane-making company in Sydney in 18 months."It did him the world of good," says Arthur. "He learned a lot and realised that his dad wasn't the only demanding boss – all bosses are like that."
Jack is part of a successful family team at Shorelands, which provides a wide range of services, including supply base and airport support operations, crane and truck hire, barge services in the Northern Territory, northern Western Australia and Queensland, labour hire,  and the production and installation of concrete panels.
Arthur's daughters, Nicky and Megan, manage the company's accounts.
Grandson Michael started his marine training at school and is now a qualified mate; another grandson, James, is studying a Certificate III in Maritime Operations, which he should complete before he finishes Year 12, and wants to become a marine engine driver.
Son-in-law Richard is operations supervisor for the group's barge division.
Shorelands has also trained many apprentices.
"The economic downturn in the Territory has meant that very few companies can take on apprentices at the moment," says Arthur. "That's sad – because young people should be given the chance of having a trade. Many companies are running on skeleton staff. Things will improve when the economy improves."
One of the group's latest contracts was to build huge artificial reefs for the Northern Territory Government.
The 23-tonne "pyramids" are now being lowered into Beagle Gulf in clusters of four to create four reefs, each the size of a football pitch.
The new reefs, which contain very little steel support and will be immune from concrete "cancer", are expected to last 100 years.
Marine scientists say they will evolve into full, ecologically balanced reefs in less than two years and be six times more productive than natural reefs.
Shorecast partnered with specialist engineering firm Subcon Technologies to win the $8.3 million artificial reef contract, which is part of the Territory Government's $50 million investment to improve recreational fishing opportunities.
Subcon Technologies was brought in because it has vast experience in the field.
Shorecast NT built 20 small artificial reefs without charge and is placing them near jetties, such as Nightcliff.
The job of welding the 1.6-metre-high reefs was given to the Helping People Achieve charity, which provides employment and support for people with disabilities.
Arthur believes that artificial reefs could be used in the same way as they are in the Middle East – to improve the commercial fishing industry.
He says the Territory economy could be boosted dramatically by expanding four key industries: fishing, mining, cattle and agriculture.
Arthur says there is room for expansion in commercial fishing, which is widely recognised as being well managed and sustainable.
NT Seafood Council chief executive Katherine Winchester agrees.
"For some seafood species expansion will be a result of value adding, whereas other species are underused and yet to reach their full potential," she says.
Arthur says mining could transform the Territory economy and wants to see a rail spur built from Gove to Borroloola.
"That would make several mine projects economically viable and provide wealth and jobs for regional centres."
He says the rise of a beef-loving middle class in Asia, particularly Indonesia, is making a greatly expanded cattle industry viable.
"Each middle class Indonesian only has to eat a little more beef every week – which is happening – for the demand for our beef to sky rocket."
Arthur also wants to see the agricultural industry developed.
He says a series of dams should be built and an Ord River-style farming project created between Adelaide River and Pine Creek.
Arthur is 63 and has great faith in the Territory's future, although he will probably watch the NT's economy flourish from semi-retirement.
"I've got a succession plan for the kids – every family business must have one – but I'm not just going to stop working. I couldn't do that. I'll do less and less gradually."
Arthur is a strong supporter of the buy local policy.
"Contracts should always go to a local company if they can do the job. That keeps the money in the Territory.
"And Territory companies contribute to Territory community causes."
Shorelands is a born-and-bred Territory company and happily gives back to the community.
Arthur was instrumental in founding the Tiwi Bombers football team, sponsored Dragons Abreast for 10 years and supports mud racing – one of the cars, driven by Paulette Gaston, is appropriately named Shorefun. TQ