Kathryn Stenson
Kathryn Stenson – Changing Lives for the Better
There's nothing Kathryn Stenson enjoys more than providing a Territorian with the opportunity to transform into a skilled worker capable of carving out a fulfilling career while contributing to their local community.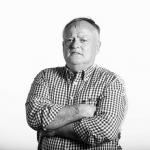 Words by

Nigel Adlam
Published

18 July 2022

There's nothing Kathryn Stenson enjoys more than providing a Territorian with the opportunity to transform into a skilled worker capable of carving out a fulfilling career while contributing to their local community.
"I love watching people change their lives for the better and I have a deep sense of commitment and responsibility," she says.
Kathryn's upbringing allows her to understand the barriers that people can face when commencing in their career or when making a career change.
She had a tough childhood and remembers with gratitude how her life was changed through an apprenticeship.
Kathryn has just celebrated her 10th anniversary as Chief Executive of GTNT Group, the Northern Territory's largest not-for-profit provider of training and employment services.
The organisation has helped a staggering 35,000 trainees and apprentices since it was founded 32 years ago.
"Our team are incredibly passionate people that form strong connections and partnerships, which fulfils our mission to increase business capability by providing opportunities for individuals to reach their full potential."
The training, employment and mentoring services that GTNT Group provides are needed now more than ever as the Territory is suffering a chronic skilled labour shortage with a 3.9 percent national unemployment rate.
"With the present limited candidate pool, employers are being forced to make the job fit for the worker rather than the other way round".
It is pertinent that employers embrace a training forward approach and enable employees to continuously upskill to meet the needs of their present and future workforce needs.
"We are helping industry and schools to create training-based career pathways to help young people to be work-ready when entering the workforce."
Kathryn, who has worked for GTNT Group for 14 years in two stints, became Chief Executive at a time when the organisation was in need of structural and financial reform.
"We were in danger of closing, which would have disadvantaged many Territorians," she says. "The board and staff worked incredibly hard to implement commercially viable programs."
GTNT Group is now thriving – it has more than 95 internal staff with offices in Darwin city centre, Casuarina, Palmerston, Katherine, Tennant Creek and Alice Springs, and has even set up as a registered charity.
Training and employment services are being carried out in urban and remote communities, offering solutions for skill shortages. GTNT Group works in partnership with employers for the best training and employment outcomes.
GTNT Foundation has sponsored more than 350 students from Timor-Leste through high school and 13 through university.
With the foundation's environmental projects gaining international carbon accreditation, GTNT Group is moving towards operating at a carbon neutral status and encourages and supports other organisations to follow their lead.
Kathryn has fostered a private enterprise culture at GTNT Group, which has grown to be adaptive and innovative in changing economic climates.
"Our people think like entrepreneurs but their focus is on providing value," she says.
"They have the quality conversation, not just the commerce conversation.
"We're agile and we adapt to changing environments quickly. Our attitude is that we must thrive and help others thrive as together we are stronger."
Kathryn was born in Sydney but moved to a family hobby farm In Tamworth when she was a toddler and then to Gympie in Queensland in primary school.
Her father Gordan was a forestry labourer and her mother a former newspaper editor.
"I was enthusiastic and determined to make a difference and I saw GTNT Group as the place to achieve this".
"We weren't affluent by any means and, like many families, we had problems".
Growing up, Kathryn was raised by her dad as her mother struggled with alcoholism.
She remembers the pain of knowing that everyone at her state school knew about her mother's addiction.
"When I was 14 I persuaded my dad to move me to another school. I told everyone at my new school that there was just me and my dad at home.
"Dad bought me a second-hand uniform. I started afresh. I believe that sometimes people need the chance to reset."
Although not without its challenges, Kathryn has fond memories from her childhood, especially sharing her dad's passion for horses, learning to ride and competing in gymkhanas.
As Kathryn grew up she couldn't wait to get out of Gympie because there were very limited opportunities in the small town.
She left school at the end of year 11 and started an apprenticeship in Brisbane after her father took out a loan to send her on a hairdressing course.
Kathryn went on to be a recognised leader within the industry, completing many courses and rising to become salon manager, area manager, trainer and then co-principal of a private registered training provider.
"I was determined to be the best that I could be and I loved the opportunity that the vocational education and training system offered.
"My childhood has helped me empathise with people who have had it tough and are in need of an opportunity to help them reach their potential."
Kathryn studied adult education, majoring in human resource management at the Queensland University of Technology.
She later went to work as a HR manager for Voyages tourism company in Yulara – teaching at the Indigenous boarding school on her days off – before moving to Alice Springs.
Her work in Alice Springs included helping establish the convention centre at Lasseters hotel-casino, where she identified a significant gap in the labour force.