IRONBARK MAKING A BIG DIFFERENCE AS IT GROWS
Ironbark Aboriginal Corporation was a dynamic, flourishing operation when the Indigenous-owned organisation celebrated its 20th birthday with staff and key stakeholders two years ago.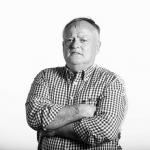 Words by

Nigel Adlam
Published

10 July 2023

It evolved from humble beginnings in a single demountable on the outskirts of Darwin to a sprawling  business of 11 offices and more than 70 staff.  
So it's not surprising that the organisation is still thriving and continuing its steady growth.  Ironbark has experienced remarkable expansion – it now boasts 10 healthy business units.  
With a commitment to creating real employment opportunities and generating wealth, it is living up to its  empowering slogan: Changing lives – one story at a time.  
"We're here to make a difference," says Shaun Pearce, the go-ahead CEO of Ironbark for the past eight  years.  
His passionate drive and deep understanding of Indigenous engagement has enabled him to steer the  organisation towards sustainable growth and positive community impact.  
Before Ironbark, he worked as the General Manager of Yulara Community and Indigenous Engagement,  looking after everything from the airport, security and staff housing to commercial contracts, local  Aboriginal training and community engagement in the remote community.  
"I took the job for three months to babysit a department while they recruited – and stayed for eight years.  "I had never been to the Territory before."  
He admits that when he got the Yulara job he told friends and family that he was going to work at the  Crocodile Hotel, which is in Kakadu National Park, more than 2000 kilometres by road from Yulara.  
"I've never regretted moving to the Territory," he says "I love it. Apparently, I've got to be here nine more  years to be considered a true Territorian."  
In 2022, Mr Pearce was a top 10 finalist in the Not-For-Profit Executive of the Year category of the  prestigious CEO Magazine's Executive of the Year Awards.  
He is on the board of NT Shelter and is the Chair of Tourism Top End.  
Mr Pearce was president of Darwin Buffaloes Football Club for five years, and is former president of the  Palmerston Regional Business Association and vice-president of the Chamber of Commerce.  
"I strongly believe that you have to give back to a community by getting involved, you've got to impart your  knowledge," he says.  
He has developed a professional coaching and mentoring business, Executive Attitudes, in his "spare time",  combining his love for motorbikes and life coaching.  
Ironbark is governed by a board made up of seven representatives.  
Two members, Robyn Regattieri and Regina Bennett, have been serving the corporation as board members  since it was founded. The other board members are Halpin Hart, Jerome Cubillo, Sonya Laughton, Joe  Brown and Rus Nasir, all respected Indigenous leaders and advocates.  
"I love the Ironbark slogan, Changing lives – one story at a time," says Mr Pearce. "It underscores the  corporation's commitment to transforming lives and communities through their diverse initiatives, but it is  also key to the management of our own 70-plus staff across the business."  
Ironbark has become an employer of choice for many people including its Senior Management team made  up of Kirstine Cossens – Operations Manager, Steven Lawrence – Corporate Services Manager, Brad Rake –  Business Development Manager and Diana Gallo – General Manager, Ironbark Services NT.  
"We're attracting key staff to work for us. People see us as a great place to work," Mr Pearce says.  
"Through professional development programs, mentorship initiatives, and a supportive work culture,  Ironbark cultivates a skilled and dedicated workforce."  
A large proportion of staff, including the chief executive, are studying as part of a professional  development program, and some senior staff mentor more junior staff.  
One staff member, Larrakia woman Donella Young, joined Ironbark straight from finishing Year 12 at 
Palmerston College.  

She began as a receptionist but is now the organisation's Corporate Services Administrator and is studying  for a Diploma of Business.  
Mr Pearce says 23-year-old Ms Young "epitomises the Ironbark values".  
that her ambition was to become chief executive – my job!.  
"She asked for advice on what direction she should take to achieve this. I quietly told her, 'What you don't  do is get rid of the bloke in the job at the moment'.  
"That chat shows what an open-door policy we've got at work. She was confident enough to come into my  office to tell me she wanted my job. I love her ambition and encourage it." 
Ironbark's varied business units make up the new brand of Ironbark Services NT, which includes cleaning,  property, grounds maintenance and labour hire, which all provide real employment opportunities and  empower individuals to thrive.  
Diana Gallo began with the business in 2022 as Ironbark Services NT General Manager, continuing the  development of employment opportunities and creating wealth through for-profit work.  

"Ironbark has helped literally thousands of Indigenous people since being founded over 20 years ago and  we're proud of that," says Mr Pearce.  
For 23 years, Ironbark has managed the Community Development Program, a Federal Government  employment service aimed at empowering remote communities.  
Ironbark, which covers a vast stretch of the Top End, is dedicated to fostering unparalleled economic  opportunities in communities such as Nauiyu, Belyuen, Humpty Doo, Adelaide River, Knuckey Lagoon,  Marrakai and Cox Peninsula.  
By providing training, discipline, and life skills, the organisation's efforts have had a transformative impact  on education, self-esteem and employment prospects for Indigenous people.  
As one of the largest CDP areas in Australia, Ironbark continues to pave the way for community-driven  development.  
The most recent addition to the business arm of the organisation is one of a kind in Northern Australia.  Rapid Eco Blast, led by Brad Rake, is dry ice blasting technology which is an environmentally sustainable  cleaning and surface preparation technique.  
Rapid Eco Blast's dry ice blasting equipment features unparalleled technology that can be used in a variety  of industries and applications.  
It's non-abrasive, non-conductive, non-toxic and non-flammable, giving several advantages over other  cleaning methods.  
Dry Ice blasting is also chemical free and water free, and does not create secondary waste.  "Insurance companies love this because you're looking after your assets," Mr Pearce says.  
Rapid Eco Blast revolutionises cleaning, offering efficient and chemical-free solutions for vehicles,  machinery, and even fire-damaged buildings and mould-affected areas, which is a common problem in the  Darwin tropics.  
"You can even use it to clean a power distribution board without having to turn off the electricity," says Mr  Pearce.  
Rapid Eco Blast complements Ironbark's cleaning supplies arm, RapidClean NT, which has now moved into  its purpose-built warehouse and showroom in Berrimah, which was finished in August last year.  

Ironbark bought two blocks of land behind its corporate offices at Darwin Corporate Park and engaged On  Country Construction to build the 1200 square metre warehouse.  
On Country Construction is a joint venture business between Ironbark and Jaytex. 
"We didn't get a grant for the land purchases or the warehouse build and we didn't take out a loan," says Mr  Pearce. "We did it with our own money, we invested in ourselves."  
The project confirms Ironbark's strength as a business and its commitment to the local business landscape.  
RapidClean NT, which has the buying power of belonging to a national chain, has a five-strong team led by  Manager Charlie Sharples.  
The team is kept busy supplying big businesses and events around Darwin with their range of eco-friendly  cleaning supplies, which are for sale or rent.  
Aboriginal Bush Traders, another arm of the Ironbark business that has become something of a Darwin icon  already, also moved – from Lyons Cottage on The Esplanade to a modern premises in the Charles Darwin  Centre in the city centre.  

The café has quickly established itself as a meeting place of choice for businesspeople and travellers.  The shop and art gallery make it an award-winning cultural hub.  
Led by inspiring Manager Samoane Regattieri, who has been with Ironbark for 14 years, and ABT  Coordinator Belinda Foster, the Aboriginal Bush Traders venue hosts a remarkable collection of authentic  Indigenous art and fosters an environment where customers can immerse themselves in the rich tapestry of  Aboriginal culture.  

The cafe gives customers the chance to sample Indigenous food, including bush tucker.  
"There is a real gap in the Darwin food scene for that," says Mr Pearce.  
Ironbark's commitment to ethical sourcing and upfront payments to artists ensures the sustainability and  economic empowerment of Indigenous communities.  
The café also caters for events and the shop can support businesses with their corporate gift needs.  
"The art is something people will treasure for a lifetime. It's special. We've got an Indigenous manager and  an Indigenous artist-in-residence – it's great."  
Ironbark also gives back to the local community by supporting numerous organisations across several  programs.  
"It's all about giving back and, once again, changing lives," says Mr Pearce, emphasising Ironbark's  commitment to social impact.  
Through strategic sponsorships and support for initiatives such as the Daly River Buffaloes Football Club,  Clontarf Foundation, Hoops 4 Health program, the No Woman Left Behind and International Men's Day  events, plus supporting many more, Ironbark invests in the wellbeing, education, and empowerment of  Indigenous youth.  
By providing opportunities for study and sports both locally and internationally, Ironbark creates pathways  for success and leaves a lasting imprint on the lives of individuals and communities.  
Ironbark Aboriginal Corporation stands as a powerful testament to resilience, entrepreneurial spirit and  cultural preservation.  
With their remarkable growth, innovative ventures, and unwavering commitment to social impact,  Ironbark continues to redefine success and empower Indigenous communities.  
Led by Mr Pearce's visionary leadership, the corporation exemplifies the transformative power of business  to change lives—one story at a time.  
As Ironbark paves the way for a brighter future, they leave an indelible mark on the landscape of  Indigenous business, inspiring generations to come.