Ironbark Aboriginal Corporation
IRONBARK: CHANGING LIVES FOR THE BETTER
An unsung Aboriginal Corporation working in the community development space is quietly helping transform the lives of Territorians – one story at a time.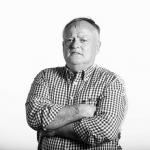 Words by

Nigel Adlam
Published

01 October 2019

Ironbark Aboriginal Corporation, which was established in 2000, provides a range of programs and services aimed at helping people play a more fulfilling role in society. It has been so successful over the past four years that it is looking at a string of development initiatives.
"We've gone through tough times but we have stabilised and are now growing," says chief executive officer Shaun Pearce. "We've made great progress – we're quiet achievers."
Ironbark, which is based at Darwin Corporate Park, has recently gone into partnership with an Alice Springs-based firm, Principal Products, to launch a company called RapidClean NT, which sells cleaning chemicals, dispensers, paper products, janitorial supplies, safety equipment, and cleaning equipment and cleaning products.
"We've already got quite a few customers, including health organisations and the NT Police. It's a one-stop shop for bulk , commercial or individual sales."
Buoyed by the success of RapidClean NT, there are now tentative plans to start a cleaning company. "We're often asked to quote on a cleaning service for offices and other premises, so it's something we're investigating."
The corporation also offers corporate services, such as business development and HR advice, and accountancy, mainly for small Aboriginal-owned businesses. But it would like to expand the services to cater for mainstream companies as well.
Ironbark covers a vast tract of the Top End – from Howard Springs 200 kilometres south to just north of Pine Creek and from the Daly River and Cox Peninsular east to Marrakai. It has 1100 clients, 44 percent of which identify as Aboriginal or Torres Strait Islanders.
"Even though we are an Aboriginal corporation, we cater for everybody," says Mr Pearce. "We don't discriminate between Indigenous and non-Indigenous people."
The organisation operates the federally-funded Community Development Program, which incorporates the work-for-the-dole program. Ironbark helps more than 350 unemployed people in work-like activities, training and upskilling. Last year, Ironbark helped 420 jobseekers find work, full-time, casual and part-time, and 106 of them remained in their jobs for at least six months; 35 of them were Indigenous.
"That's a great achievement considering the state of the NT economy," says Mr Pearce.
Ironbark has eight work-for-the-dole centres: Holtze, Belyuen, Daly River, Adelaide River, Amangal, Humpty Doo, Dundee Beach and Berry Springs. The Daly River hub includes a furniture-making operation – local community participants harvest mahogany and make products, such as boardroom and coffee tables. Ironbark also has the contract for the boat service used to help with the delivery of supplies and evacuate residents when the Daly floods, and to help with the post-flood clean-up.
"The CDP workers are helping their own community, which gives them a great sense of pride."
Work-for-the-dole at Belyuen includes repairing and putting up fences and shelters, mowing lawns, and helping with housing maintenance and upgrades when requested. The program at Holtze includes metal fabrication, including making mobile dog kennels for police dogs. Ironbark has a contract to maintain the as-yet-undeveloped land at Darwin Corporate Park and provides labor for the bituminising of the Litchfield Park Road.
The corporation works closely with Charles Darwin University to help CDP participants gain a Certificate III in Civil Construction, which includes operating bobcats and other heavy plant and equipment. It has also gained a promise of work on the Arnhem Highway upgrade, a major project that is still out to tender, and is training people in traffic control.
"When work is being done by local people in communities it isn't just about someone having a job," says Mr Pearce. "It's about self-esteem and workers spending their wages in the community, keeping money in the community. And it's about kids seeing mum and dad going to work every day, inspiring future generations. These are tremendous social benefits."
Ironbark runs a culture, arts and language program, which is mainly taken up by women, focusing on arts activities and sewing.. And it has revived Aboriginal Bush Traders (ABT), which operates out of the historic Lyons Cottage on The Esplanade in Darwin. The cottage has a cafe and sells art, bush tucker and gifts, including didgeridoos.
"It's guaranteed that all products sold at ABT are authentic Indigenous products, unlike much of the so-called Indigenous crafts on sale in many shops. It's an excellent place for corporate gifts and Christmas presents."
Ironbark Aboriginal Corporation, which has an annual spend of more than $10 million and a total staff of 65 based in Darwin and remote communities, also gives back to the community in many other ways, including sponsoring sports teams and individuals, both in their academic and sports endeavours
"If a school kid requires assistance to go to an interstate tournament, we contact the school to ask not just if they are good at sport but if they are good at attending classes and seen as socially upstanding children."
The organisation sponsors NAIDOC Week events and also holds its own NAIDOC events. Mr Pearce and his team are keen to make a difference whenever possible – they even hope that one day soon Ironbark will be able to annually sponsor Indigenous Territorians to go to university and further their education. TQ
CONTACT
Building 1, Level 2, Darwin Corporate Park
631 Stuart Highway Berrimah NT 0828
08 8931 6600
info@ironbark.org.au
ironbark.org.au