Sunbuild
IN PURSUIT OF EXCELLENCE
Rory Milner knows the benefits of the Northern Territory Training Awards more than most.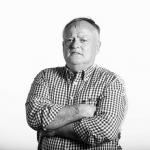 Words by

Nigel Adlam
Published

01 April 2020

He was named Territory Apprentice of the Year in 2019 and went on to win the national title at the Australian Training Awards in Brisbane. "I was stoked," he says. "It's not often you get to win two awards in one year."
Rory, who works for Darwin born-and bred construction company Sunbuild, was proud to be Australian Apprentice of the Year and pleased that a Territorian had won a national crown. He urges apprentices, trainees and training organisations to enter this year's NT Training Awards. "It's a great way to get recognition and looks good on your resume," he says. "It helps your career. So, people should take the time to enter."
The Darwin-born carpenter got more than a sense of pride from his win. His girlfriend Alysha Johnson, the mother of their baby son, dislikes his dramatic mullet haircut but said he could keep it if he became Australian Apprentice of the Year. Rory was 26 and working as a labourer at Sunbuild when he worked up the courage to ask the boss, Neil Sunners, for an apprenticeship.
Mr Sunners was a humble tradie himself once and is always willing to give young Territorians willing to work hard the opportunity to expand their skills – and agreed. "Sunbuild are very proud of what Rory has achieved over the short time he has been in the industry and we are confident he will be an asset to the industry in the future," he says.
Master Builders Northern Territory Executive Director Dave Malone says: "Throughout Rory's career with Sunbuild he has constantly been allocated additional responsibilities and supervisory roles due to his skills, experience and work ethic." Rory is now a supervisor at Sunbuild's Bunnings project in Palmerston. The 13 categories in this year's NT Training Awards, the Department of Trade, Business and Innovation's annual premier event, are open to businesses, training organisations, apprentices, trainees, trainers and students.
The awards recognise excellence and achievement in gaining knowledge and skills, contributions to high standards of training, and for personal achievement in the vocational education and training sector. Winners and runners-up of each category receive a cash prize, with some categories qualifying for the Australian Training Awards in November.
Nominations for this year's NT Training Awards are now open. Winners will be announced at the annual gala dinner at the Darwin Convention Centre on Saturday, 19 September.
For more information, visit business.nt.gov.au, call 08 8999 7820 or email trainingawards@nt.gov.au TQ