NT TRAINING AWARDS
HARD WORK PAYS OFF
Andy Creber made great personal sacrifices to learn his trade.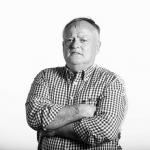 Words by

Nigel Adlam
Published

01 October 2020

But it has all been worth the effort – he was named the Austin Asche Apprentice of the Year at the Northern Territory Training Awards.
It is the highest Territory honour in the world of apprenticeships. Andy was 40 and a qualified auto electrician when he watched Caterpillar-trained tradies at work and said to himself: "I could do that with a bit of training."
And he did, even though it meant becoming an apprentice again. Andy, who received great encouragement from his wife to learn a second trade, chose Hastings Deering in Darwin as his registered training organisation because of the company's good reputation.
He has just completed his apprenticeship as a diesel fitter and is now a leading hand. Andy had to halt his apprenticeship for nine months after a mountain bike accident.
"It was hard to stay motivated when you are unable to do much." But he returned to work and study – and is now a highly sought-after dual tradesman. "I am Territory proud and have always found the people here quite innovative and adaptable," he says. "I am hardworking and enjoy a challenge. I get a lot of satisfaction from trying to improve on any situation or experience."
A Caterpillar-trained tradesman is recognised world-wide. His employer, Hastings Deering, which is celebrating 88 years in business, was also named the Northern Territory Medium Employer of the Year.
"Hastings Deering gives their apprentices every opportunity to succeed," says Andy. "I have gained a lot of skills completing this apprenticeship – I didn't realise how much I didn't know until I gained the training and the on-the-job skills to reinforce what I had learnt.
"I tried hard to learn as much as possible in my apprenticeship, as I did not want to be a run-of-the-mill fitter, but exceptional at my job. "I believe that I have gained a higher level of expertise with the combination of both trades, as I have a high degree of electrical and electronic capability and now have a good understanding of the mechanical side of the trade.
"As a dual tradesman, I can continue to build on this into the future." Andy enjoys working in a team. "There is always good camaraderie when the going gets tough and everyone gets to share their experience to make the result better.
"Working in a team also speeds up the learning process and sometimes different ways to achieve the same result. In a team, you get to use your initiative and share in the initiative of others, thus expanding your knowledge and the way that you think and diagnose a problem." Andy also believes giving feedback is important.
"If they don't get any feedback they are in the dark as to what they are doing well and what can be improved."