INDUSTRY CAPABILITY NETWORK NT
GATEWAY TO PROSPERITY
The business community has many reasons to have faith in the future of the Northern Territory.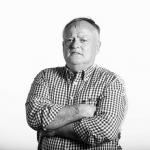 Words by

Nigel Adlam
Published

01 July 2020

Kevin Peters, chief executive of the Industry Capability Network NT, says Territory and Federal government stimulus packages were a "fantastic" help during the coronavirus lockdown. But he says: "There were projects underway before the pandemic – and these are still progressing."
ICN is the key link between companies that are overseeing projects – big and small – and Territory businesses. It informs contract and procurement personnel about the capabilities of NT industry and keeps local businesses up to date about a project's progress. ICN NT is now so highly regarded that it is used by companies of all sizes for expressions of interest and notification of awards for lower tier business development opportunities.
For instance, American corporation Newmont, the world's biggest gold miner, is using ICN's Gateway portal to advertise work packages for its $1 billion expansion of the Tanami mine, 540 kilometres north-west of Alice Springs.
Other major contracts on Gateway include:
• Territory born-and-bred construction company Sitzler's $514 million USFPI Northern Territory Training Areas and Ranges project; • Laing O'Rourke's $472 million redevelopment of Larrakeyah Barracks in Darwin;
• Lendlease's $1 billion upgrade of RAAF Tindal in Katherine;
• Project Sea Dragon, a $1.45 billion, 10,000-hectare prawn farm planned for Legune, near the Territory- Western Australia border, which is expected to invite tenders for $200 million worth of work later this year;
• The potential $500 million Santos project to pipe gas from the Barossa field to Darwin after the closure of the Bayu-Undan field;
• Sun Cable's $60 million Middle Arm battery project in support of the proposed $1 billion solar mega-farm near Tennant Creek;
• The $400 million Darwin ship lift and marine industry project;
• The $500 million Darwin City Deal, which includes building a Charles Darwin University campus in the CBD, is not on Gateway but holds out the potential of lucrative contracts for local businesses;
• A string of prospective mines, including the $73 million Core Lithium project near Darwin, the Arafura Resources Nolans rare earth operation 153 kilometres north of Alice Springs, Avenira's Wonarah phosphate mine near Tennant Creek and TNG's $824 million Mount Peake vanadium-titanium-lead mine 230 kilometres north of Alice Springs; and
• The onshore oil and gas industry – exploration is continuing in what could be a multi-billiondollar industry that will fuel a manufacturing hub.
The closing of the Bayu-Undan field and the development of the Barossa field as an alternative gas source will coincide with a major redevelopment of the Darwin LNG plant. Mr Peters says the projects hold out exciting possibilities for Territory business.
He says there will also be a substantial injection of Federal and Northern Territory government funds into tourism across the NT, which should see a badly-needed stimulus to an important economic, employment and morale-boosting sector. Projects include completion of the Litchfield ring road and upgrades to Kakadu and Litchfield national parks. And on top of this, the Defence Department is spending $20 billion in the Top End over the next 20 years. Max Nicholson of Winnellie Hydraulics in Darwin says ICN's Gateway portal helps NT business stay in touch with contract opportunities. "There's no other portal like it," he says. "It provides a lot of good information about tenders.
Business appreciates what the ICN does." ICN helps contract and procurement personnel wanting to buy goods, services and equipment find competitive local suppliers. "The Gateway portal is a funnel into a whole range of projects," says Mr Peters. "We connect Territory businesses to opportunities. In a way, we're brokers. "The big companies have usually got tried and trusted supply lines, usually on the east coast, which makes it hard for Territory businesses to break in.
"The Territory Government makes it clear that they expect these companies to use as many local businesses as possible." NT businesses of all sizes are encouraged to create a Gateway profile and post their capabilities. The service is free. ICN NT has an office in Alice Springs, which covers Tennant Creek, and has just opened a joint office in Katherine with the Chamber of Commerce. "It's important for us to have regional representation so that businesses are better advised of how to access the opportunities available to them."
Apart from acting as matchmaker, the agency performs another crucial service – carrying out industry capability studies, which reveal what Territory business can do and the nature and size of gaps in capability. Studies cover most sectors, including mining, aquaculture, construction, marine services, and onshore oil and gas.
A study into the Aboriginal capability in the Beetaloo corridor has also been completed. "We've accumulated an awful lot of information about Territory business," says Mr Peters. "We have the largest and most comprehensive database of our capabilities. "We are helping deliver opportunities for Territorians. Of course, there will always be winners and losers when it comes to contracts, but we can put local business in front of great opportunities.
"Even in challenging times there are still constantly emerging opportunities. It makes it all the more important that these opportunities are relayed to Territory businesses. "The Territory really does have an exciting future. Covid-19 has set us back but there is diversity in our economy and great capability that needs to be recognised and capitalised on." TQ
CONTACT
Industry Capability Network NT
101/12 Salonika Street Parap NT 0820
08 8922 9422
info@icnnt.org.au
icn.org.au