Merit Partners
EMPATHY ALL PART OF DISNEY'S SERVICE
There is no miracle recipe for making a top-flight accountant. But one ingredient is critical – empathy.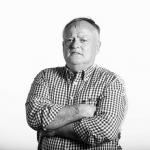 Words by

Nigel Adlam
Published

01 October 2020

And Sandrina Disney, who has just been promoted to Principal of Darwin-based Merit Partners, one of the most respected accountancy firms in Northern Australia, has got empathy in spades.
"I like to get to know my clients and understand their business, so that I can work with them to arrive at the right solutions," she says. "It's not one size fits all in the world of business.
"We work hard to ensure our clients feel that they can talk to us and trust us. The advice we give is often crucial so they must be able to trust that advice. "Sometimes you even have to be the bearer of bad news and tell them that they can't do this or that. You must be straight up with them."
Sandrina also enjoys passing on her knowledge by mentoring younger accountants and speaking at professional forums, such as October Business Month and the CAANZ Conference.
"It's important that we train the next generation," she says. "I had people mentoring me when I was younger, and I greatly appreciated that. I wouldn't be where I am today without their help."
Sandrina, who has worked at Merit Partners since 2001, has an interesting portfolio of clients, ranging from major companies to mum-and-dad businesses just getting started.
"I love the diversity of my work," she says. She is an expert in taxation, GST, payroll tax and FBT, and relishes researching and advising on the more complex areas, including commercial debt forgiveness, CGT and the GST margin scheme.
She has undertaken business valuations for marriage separation proceedings, prepared tax notes for general purpose financial statements, provided independent expert reports for legal proceedings, undertaken business feasibility studies and helped clients with business restructuring.
Sandrina was only four when she migrated straight to Darwin from a rural community in Portugal with her mother Madalena and sister Dona. Her father Jack had come on his own a year earlier to check out whether Darwin was a good place to bring up a family.
"It must have been so hard for my mum – she had to fly halfway across the world to a new country with two little girls and she couldn't speak a word of English.
"I got my work ethic from my mum and dad. They have always worked so hard for the family. I adore my parents. "They have no regrets about migrating to Australia." Sandrina went to Driver, Holy Family, O'Loughlin and Casuarina schools before gaining a degree in business, majoring in accounting, from what is now Charles Darwin University.
She and her business owner husband Adrian have a nine-year-old son, Aiden. Merit Partners provides a full range of services, covering audit and assurance, tax, accounting, business and management advice, and SMSF administration services. Many of its staff are long term Territorians. TQ