DXC Technology
DXC TECHNOLOGY: HELPING THE TERRITORY REACH FULL POTENTIAL
With a new regional operations hub in Darwin and programs to develop skills and create jobs, DXC Technology is committed to advancing the digital capabilities of the Northern Territory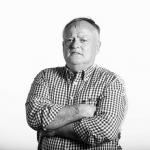 Words by

Nigel Adlam
Published

01 January 2021

As one of the world's leading independent, end-to-end IT services companies, DXC Technology has helped countless organisations harness the power of technology and innovation.
It now wants to create a springboard that will help Territorians leverage its expertise, global scale and supplier partnerships that will propel the region into the future.
"You need best-in-class technology, but the key to unlocking the success of any transformation is the people," says Steve Lindsay,
Regional Manager Northern Territory at DXC. "We're incredibly excited about the untapped human potential in the region and want to provide pathways for people to start or advance their career in technology."
Steve spent more than two decades as an executive in charge of transforming major banks and financial services organisations in the southern states, before coming to Darwin to help attract and grow ICT skills within the Territory. When the opportunity arose, Steve jumped at the chance to run DXC's NT operations.
"It's been a humbling experience so far to work for a global technology company that puts people at the heart of everything it does, values local communities and strives to create equal opportunities for all stakeholders."
Of course, having the top technology talent in the country is one thing. But you also need people with deep local expertise. That's why, in addition to tapping one of the Territory's most savvy tech executives in Steve, DXC has also partnered with Integral Digital, a firm whose strong Territorian heritage ensures customers can have the best of both worlds.
"Integral shares our vision of growth and inclusion, and together we will not only help citizens participate in the Australian Digital Economy, but also work closely with the NT Government to modernise and secure its technology infrastructure," says Steve. "The NT
Government is on an impressive transformation journey, and we're eager to support them to further grow their digital capabilities and maximise the opportunities for Territorians."
Already DXC has made its mark in the NT, having launched a number of initiatives to support the community, drive innovation, and create career opportunities for skilled workers.
This includes a partnership with Charles Darwin University to sponsor an annual award and cybersecurity scholarship program, as well as sponsoring the Casuarina Senior College Futures Festival to help shape future careers in ICT, and memberships with NT Chamber of Commerce and Territory Proud.
It has also embarked on a three-year partnership with NT Cricket as it tries to cement the Territory as the home of winter cricket in Australia. The company also recently launched its first Reconciliation Action Plan as part of its First Nations Program, which aims to improve societal outcomes for Aboriginal and Torres Strait Islander peoples.
This builds on the work DXC has done over the past few years with Supply Nation-certified businesses such as Willyama Services to help Indigenous Australians reap the benefits of the digital revolution.
From partnering with Supply Nation and the Commonwealth Bank to launch an app connecting Indigenous businesses with skilled volunteers, to supporting Science, Technology, Engineering, Arts and Mathematics camps for First Nations children in South Australia, DXC is doing its part to effect meaningful change within the Australian community.
Looking to the future, and at the role that the Northern Territory could play on a regional scale, Steve and the team at DXC and Integral are confident in the possibility for Darwin to act as a technology hub for Asia and the rest of Australia.
"With the right people, processes and technology in place, we believe that Darwin is well placed to help deliver IT services across Asia-Pacific as well as help position Australia as the centre of innovation."