Darwin Port
DARREN TAKES THE HELM
Darren Lambourn is uniquely qualified to run the Darwin Port – he was a wharfie before moving into management.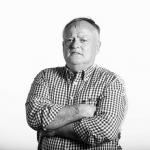 Words by

Nigel Adlam
Published

01 October 2019

"I come from the floor," he says. He understands life on the wharf and life in the boardroom. And he has had a great deal to do with winning more work for regional ports in Australia so also understands the importance of doing business.
Mr Lambourn took over as chief executive of the Darwin Port in mid-August. He replaces Terry O'Connor, who has retired after 11 years in the role.
"I had the chance to meet Terry – he's a top bloke. In other jobs, I've had a lot of challenges right from the start, a lot of things that needed doing, but Darwin is a very well run port."
Mr Lambourn, who started his working life as a fitter and turner, was managing Bunbury port in Western Australia when he took the Darwin job. "I saw moving to the Territory as a great opportunity," he says. "I like the level of community engagement here and the great potential of growing the business."
Mr Lambourn has a wealth of experience in supply chain operations in general cargo and bulk logistics. He was instrumental in the development and implementation of new port master plans at Bunbury, which successfully streamlined systems, processes and recruitment of critical positions.
In an earlier role as general manager of CITIC Pacific Mining and the Cape Preston Port Company, he developed and managed a new operational bulk loading port for the $12 billion Sino Iron project in the Pilbara. He has also been regional manager of the P&O Automotive and General Stevedoring and the Queensland bulk manager for P&O Ports.
Mr Lambourn's new job includes making more effective use of the port and its assets, and developing new business. He says a key attraction in accepting the Darwin role was the fact that the port is leased for 99 years by private company Landbridge.
"My previous job was at a quasi-government port, but I like the more private enterprise outlook of a privately-run port. I'm just more of a private enterprise man, although I look forward to working in partnership with government on behalf of the port. Working in private enterprise offers a bit more freedom to set your own direction, innovate, and move at speed to make the changes you want to make. That's what I'm seeking to do at Darwin Port."
"We're not going to be like the old-style port authorities where a customer stepped through the door and the answer was immediately 'no'. And then, 'Why should we say yes'? Darwin Port takes the opposite approach; we're going to remain open to customers' ideas and consider all new opportunities on their merits. I want to chase new business and work closely with customers. I want to know what they need from us to use the port. I want to be proactive.
"I'm looking to work more closely with our customers in natural resources, such as ConocoPhillips, INPEX and other important players in the oil and gas market; large-scale onshore and offshore resources projects such as the Ichthys LNG project will play a significant role in the future of the Port, and I'm looking forward to working to keep offering the best possible service for those customers at the Port and achieve strong growth in this area of the business. Growth at the port will create jobs and wealth for the NT."
He says the supply chain – shipping, port operation, road transport and railway – is crucial to winning more work. There are about 40 major mining exploration projects under way in the Territory, including Core Lithium's Finniss River project, which has a JORC compliant resource of 3.45 million tonnes – it is expected to go into production soon and use East Arm for exports.
"We have to position ourselves correctly, not just in the short-term but for the long-term," Mr Lambourn says. "It would be great not just to capture more export trade but more imports."
He sees many opportunities, including in the cruise liner market. "We already get quite a few cruises but I'm sure we can attract a lot more."
Territorians love Darwin Harbour and will be delighted to learn that the new CEO has a strong focus on environmental protection. And staff will be delighted that he will continue the port's emphasis on safety.
Mr Lambourn, who works in hi-vis gear most days, says the wellbeing of staff at the port should extend to mental health – he has worked as a fly-in fly-out worker and has witnessed the mental strain the lifestyle can put on staff. He promises to communicate with staff. "It's all about information sharing; it's about helping people see the big picture so that they understand decisions and we can all work well together."
Landbridge Australia Managing Director Mike Hughes says : "Landbridge was pleased to welcome Darren aboard – he has the vision and experience to lead Darwin Port into its next stage of growth into a thriving, world-class port, leading the way in port facilities for some of Australia's most important sectors, including oil and gas, agriculture and cruise tourism.
"Many key providers in these sectors rely on Darwin Port as the gateway between Australia and Asian consumer markets for their import and export supply chains, so Darren has a significant role to play for the region and we're thrilled to have him on board." TQ