TQ Essay
CROSS BORDER CAMEL TRAINS
The string of camels plodded their way across the desert sands, snorting in derision at their inexperienced tourist riders.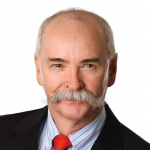 Words by

Daryl Guppy
Published

01 October 2019

The blue sky stretched towards endless horizons, the mirage teasing out shapeless illusions of water. It was, and was not, a typical Central Australian scene. These were twin-humped bactrian camels moping towards the Crescent Lake oasis in remote Gansu province in Western China near the border of Inner Mongolia.
The similarity in environment to the Northern Territory is reflected in a similarity of experience in living in and managing remote and arid environments. Gansu faces many of the same problems that the Territory has faced. The NT has developed solutions that can be shared both on a cooperative and a commercial basis. Gansu has solutions that may be relevant to the problems still faced in remote parts of the Territory.
I was in Gansu to speak at a Belt and Road Initiative roundtable conference and to explore areas of cooperation for Northern Territory businesses. It was a suitable location, as Dunhuang is located at one of the major crossroads in the ancient Silk Road. I invited Gansu officials to consider bringing a delegation to Central Australia to meet with Territory Government agencies and Indigenous organisations to explore these areas of co-operation.
Areas of exchange include the management of tourism impacts on fragile environments and the environmental monitoring of remote locations, including mining and feral animal impacts. Like Central Australia, Gansu is concerned with the management and preservation of cultural relics and sites in an arid environment. For hundreds of years Dunhuang in Gansu province offered protection for the Diamond Sutra in the Mogao caves and to thousands of other ancient scrolls.
There is the potential to explore and discuss the management of arid rangelands and management of feral populations in arid environments. As with the NT, Gansu province is faced with the problems of the delivery of health and education services to remote community locations where terrain and isolation are significant factors.
Australia has an almost exclusive security focus on the Belt and Road initiative, but the policy encourages these cooperation pathways and it also opens new connections between diverse areas. Shared knowledge is shared understanding, and together these improve relations between people and between nation states.
How do we share the knowledge, particularly when the media may be filled with negative and sometimes hate-filled stories? What is said on the US news channel Fox News, what is tweeted by presidents, and the ill-informed and inflammatory statements from some senior policy advisors make it difficult to present alternative viewpoints. And yet it is these alternative viewpoints that are essential in developing a better understanding of policies such as the Belt and Road initiative.
The most significant obstacle in exploring development opportunities is the lack of knowledge about those opportunities and the lack of knowledge of who to contact and who to speak to. The Australia China Business Council is established to assist in all these areas.
Knowledge and cooperation are increased with delegation exchanges. These have a more specific and practical focus than forums and expos. They bring together key decision-makers and influencers to explore specific areas of cooperation and development.
Hosting and taking part in regional and industry trade expos, such as the Northern Territory-sponsored Reaching South conference in Shenzhen in late October, improves our understanding of opportunities. We focus heavily on the business done at these expos, but even more important than business is the growth in understanding of development opportunities. This is an intangible benefit and difficult to measure.
The third suggestion is to support work done by organisations such as the Silk Road Chambers of International Commerce and the Australia China Business Council because they bring together diverse chambers of business to discuss ideas and opportunities. These forums and roundtables help establish the strategic framework for discussion and development. This information is fed back to the chamber members. This improves knowledge and the quality of discussion.
We live in a time where there is considerable disruption of the world order. What can we do? We do not sit at these policy-making levels, but we can show through action in our chambers of commerce that we respect the global order and that we will proceed with exploring the development opportunities brought by the Belt and Road initiative. Real development comes from cooperation and understanding. The path forward comes from cooperation and our task is to create the conditions that encourage cooperation and understanding.
In ancient times, the cross-border camel trains traversing the deserts and mountains of the Silk Road exchanged ideas as well as silk and spices. In modern times, the Belt and Road initiative also facilitates the exchange of ideas. TQ