Live Cattle Export
CARING FOR CATTLE
The health of cattle being exported from the Northern Territory to Asia is to be monitored like never before.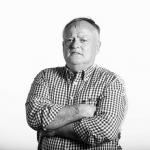 Words by

Nigel Adlam
Published

01 April 2020

A Digital Partnership Program Grant from the NT Government is allowing the Northern Territory Livestock Exporters Association to trial a biometric ear tag.
The tag, which will be fitted to every animal onboard a ship, will measure individual animal health indicators remotely. It will then transmit an algorithm, saying whether the animal is healthy or unhealthy, to a reader on the ship in real time. "This is an excellent way to measure the health of every animal," says Will Evans, Chief Executive of the NT Livestock Exporters Association. The technology, which was developed in the United States for feedlots, will now be trialled on a shipment from Darwin to Indonesia.
"This is the first time this technology has been used in this manner, so we'll have to refine it after the trial," says Mr Evans. "Communicating how animals are cared for on livestock vessels is a priority for the industry in continuing to meet the standards the Australian public expects."
The health-monitoring innovation is expected to provide additional decision-making support for cattle exported from the Territory, potentially leading to improvements across the industry on how cattle are transported, further solidifying an industry that supports many jobs in northern Australia.
Mr Evans says the Northern Territory Government grant was important in making the trial possible. "It's enabling us to demonstrate the actual value versus the projected value of the technology." Almost half of the one million cattle a year exported from Australia are through the Port of Darwin, making Darwin the busiest livestock port in the world.
Darwin is ideally situated to supply the markets of Indonesia, Vietnam, the Philippines and the rest of South-East Asia. Northern Australia is home to large numbers of tropically adapted cattle ideal for fattening in Asian feedlots.
The trade is boosted by the fact that Australia has a disease-free herd. There are 200 pastoral leases in the Territory, most of them large-scale cattle operations. The industry is worth more than $1 billion with more than half of the value attributable to the live export trade. It creates many indirect jobs in industries such as trucking and shipping. TQ