NT Cattleman's Association
BORN TO THE JOB
Romy Carey was born to work in a rural industry – literally.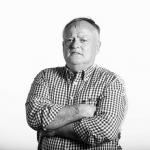 Words by

Nigel Adlam
Published

01 July 2020

She was born in Humpty Doo, went to Taminmin College and loves nothing more than riding in a rodeo. Romy is the executive officer of the Northern Territory Cattlemen's Association.
Her job at the NTCA's headquarters in Darwin includes organising executive meetings, branch meetings and the annual conference. The mother-of-three also deals with the day-to-day concerns of members. And if that's not enough, she sits on committees of the National Farmers Federation.
"It's a busy job but I love it. I enjoy fixing people's problems. "I particularly enjoy the diversity – one day I can be flipping sausages at a rural show, the next on the fifth floor of Parliament House meeting the Minister. "I take inquiries from members about everything from environmental laws to the problem of bad roads. "Part of the job is informing the NT Government, particularly about how we think money can be better spent to benefit our industry – we emphasise more bang for your buck."
Romy worked for Top End Group Training for 10 years before joining the NTCA. She was operations manager for the Australian Apprenticeship Support Network, which gave her tremendous experience in administration and handling a great variety of challenges.
Her family keeps five horses on a block in Berry Springs and are a big part of the Top End rodeo scene. Romy competes in barrel racing, which involves navigating a cloverleaf course of 44-gallon drums, and campdraft. Her daughter Mia, 7, and four-year-old son Tate both compete. The youngest, three-year-old Amarni, is too young to take part – but not for long.
Romy's husband Jim has one of the best – and most dangerous – jobs in the sport. He's a bullfighter, more affectionately known as the rodeo clown, the bloke who risks a lot to distract angry bulls. TQ