Paspalis
BELLY BUNKER
In January 2019, Amy Page's life changed with a $125,000 seed capital investment by Paspalis after securing a solid second place in Croc Pitch 2018.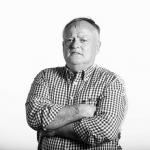 Words by

Nigel Adlam
Published

01 July 2019

Amy went from being an employee in the hospitality industry to a budding global entrepreneur. Amy says…"Since day one of stepping into DIH the opportunities, resources and connections keep following. Everyone is linked to amazing people, people who you may not expect to link to your business but then bam… a new exciting avenue to explore.
"The diversity you're surrounded by allows you to think bigger, better and more efficiently. Doors keep opening and you just want to keep growing."
Amy Page is the founder and entrepreneur behind Belly Bunker, an inflatable mattress designed for the comfort of expectant mothers with a hole in the middle of it to support the pregnant belly.
This venture capital provides Amy the working capital to dollar for dollar match a $65,000 BISI grant awarded to her from the Northern Territory providing her $130,000 to commercialize her product in new international markets.
In addition, the venture capital helps her cover her operating costs in the next 12 months while she develops her sales pipeline for this innovative maternity product. For more information on Paspalis Venture Capital initiatives go to paspalis.com.au