ALY LISTENS TO THE SONGS OF THE SEA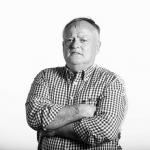 Words by

Nigel Adlam
Published

30 September 2022

For more than two decades, Darwin fibre artist Aly de Groot's creative practice has been dedicated to learning, and using and teaching contemporary basket-making processes to weave baskets, sculpture, public art, fine art and jewellery. She holds a PhD in creative arts from Charles Darwin University, where she is a research adjunct.
Her PhD project, titled Underwater Basket Weaving, explored issues surrounding sustainable basketry practices in Australia.
Aly's woven artworks appeal to young and old, and are well received on various platforms across Australia, including exhibitions, installations at festivals, art prizes and public art commissions.
She has three largescale woven, bronze public artworks in idyllic coastal sites on Larrakia country in her hometown of Darwin, which were completed in collaboration with Larrakia elder Aunty Bilawarra Lee in 2016.
Previously, she won the 2013 TOGA Art Award and, most recently, was highly commended in the 2022 Waterhouse Natural Science Art Prize. Her large-scale temporary installation of hundreds of jellyfish woven from fishing line and recycled materials at Darwin Festival (2021, 2022) has become a celebrated feature of the event.
Having recently completed an art residency at the Museum and Art Gallery of the NT, Aly presented a solo exhibition titled Tales of a Whale and Other Stories as part of the 2022 Darwin Festival at Audit House in the Myilly Point Heritage Precinct.
Her work is held in private collections and institutions across the country, including at Charles Darwin University, the Museum and Art Gallery of the NT and the Sunshine Coast University Hospital.
Aly regularly shares her skills through workshops, including at universities, festivals, hospitals, schools, prisons and Indigenous art centres.
In 2020, Aly received a National Indigenous Fashion Award in the community collaboration category for developing a successful ghost-net weaving and bush-dye enterprise with female Indigenous artists from Anindilyakwa Arts on Groote Eylandt.
TQ: We see lots of jellyfish in your work. You have worked with Aboriginal organisations and produced large public art sculptures. Do you have a favourite project and why?
ADG: My creative practice is so diverse it's hard to pick a favourite project. One week I could be installing hundreds of jellyfish at Darwin Festival and a few weeks later I'll be in Arnhem Land working with young people on their fashion collection, and the next week delivering workshops in Geelong at the Australian Forum for Textiles.
My favourite creative project still would have to be working with Aunty Bilawara Lee on a series of public artworks. There's the Dugongs at Dripstone Cliffs and Migratory Shore Birds at Lee Point, but my favourites would still be the first ones we made in 2014, the Jellyfish at East Point. For me they represent my two children as well as my love for Garramilla/ Darwin where I have birthed and raised children, loved, cried, taught, learned and created for decades. Sometimes in passing I hear people talking about the Jellyfish, creating their own connections. I once heard a girl riding past them on her bike saying: "The big one is me and the little one my brother."
TQ: Sea is an obvious answer to this question, but dig deep and tell us what inspires you as a professional artist?
ADG: When I first came to Darwin in 1995, I had the incredible experience of spending time with a Dwarf Sperm Whale in the water at Bundilla Beach. It was injured and I held it in my arms and sang to it. This moment, which featured on the front page of the NT News, has instilled in me a deep fascination with the sea and its creatures, which I express through my art-making. Many years later, I discovered that the museum held the remains of the whale and as an artist in residence at MAGNT from February- June, 2022, I had the rare opportunity to access and creatively respond to their rich natural sciences collection, including my beloved whale.
TQ: You have just completed a residency with MAGNT. How did that come about and what did it involve?
ADG: Working with the natural scientists and responding creatively to the animal specimens at MAGNT, I was inspired to bring these hidden beauties back to the surface. They have been hiding beneath the sea and now hide in these collections. As an artist in residence, I created impressions of these using sunprinting (cyanotype processes) along with mixed media to represent them in bodies of water where they came from. Ocean creatures found in the Arafura Sea, including sea horses, turtles and Australian Humpback Dolphins are "swimming" in representations of the sea and rock pools, like returning them home.
TQ: What is your next project and what do we keep an eye out for?
ADG: I am thrilled to be the recipient of the Bob and June Prickett Churchill Fellowship to travel overseas and learn about endangered European basketry practices and the actions being taken to preserve them . I want to meet experts and practitioners of these crafts across Europe to learn some of my ancestral skills, as well as investigate and document avenues being taken to preserve and continue this important cultural knowledge. I have an insatiable curiosity for learning and teaching basketry, along with researching and sharing the health and ecological attributes of the art form, and look forward to sharing what I discover on my return in new artworks and workshops.
TQ: If people want to invest in artwork by Aly de Groot how do they commission or acquire a piece? Information on acquiring Aly's work and more information on her diverse arts practice can be found on her website- www.alydegroot. com.au. Also instagram and facebook @alydegrootart