Alice Springs Takeaway
ALICE BUSINESS WORKS WONDERS
Photographer Lisa Hatzimihail insisted on one simple rule when she launched a community self-help Facebook group at the start of the coronavirus lockdown: no negativity.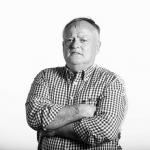 Words by

Nigel Adlam
Published

01 July 2020

It helped work wonders. "I asked for no negative comments and no negative feedback,"
Lisa says. "This had the wonderful effect of making the group a positive little space to be online."
Alice Springs Takeaway has 5500 members, including more than 50 eateries – not bad for a town with a population of only 25,000. The aim of the group is to encourage Centralians to support local small business by ordering takeaway and home-delivery food.
Lisa, who was born and bred in Alice, owns Lisa Hatz Photography and is usually booked to shoot events, such as weddings. She started Alice Springs Takeaway even though her business isn't benefiting from the project.
"I saw a post on Facebook asking for a list of any restaurants that were going to start offering takeaway. "I thought, 'Hey, someone should start a group for this', and then realised that maybe I could be that someone. "I didn't think too much about it – just that it would be useful for the businesses and the community."
The response was immediate. "I started a group and added details and menus of eateries open for takeaway. In the first 24 hours, there were over 500 people in the group. I couldn't believe it. After three weeks, there were nearly 4000.
"There are now 5500 people in the group – and it's still growing daily. "I received an overwhelming amount of positive feedback. People were happy to have a hub to easily find takeaway menus and opening hours, and the businesses were happy to have a place to be easily found.
"A positive bit of feedback from all the users was that they found new food options they hadn't heard of before and were able to try new things. "A couple of businesses even said a lot of people didn't know they even existed and they're now busier than ever and have lots of new customers – even during the pandemic when they were expecting to be so quiet and have to shut their doors."
The innovative group started as a way for Alice businesses to carry on under the toughest of circumstances, but Lisa wants it to continue. "We have a wonderful community that loves to support locals. I'm hoping all businesses that are still offering takeaway will continue to help me help them by keeping me updated on their hours and menus." TQ