Gove Peninsula Futures Reference Group
A NEW JOURNEY BEGINS
The close-knit communities on the Gove Peninsula are working hard to ensure there is life after mining.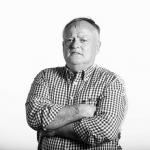 Words by

Nigel Adlam
Published

06 October 2021

The bauxite mine that has helped support the region for more than four decades is expected to close in about 2030.
This will mean an end to the royalties mine operator Rio Tinto pays Traditional Owners, a drop in the income the mine provides local suppliers and, without proper planning, a possible decrease in population of the Gove Peninsula.
But the people who call one of the remotest places in Australia home are determined that the region will continue to flourish
The Gove Peninsula Futures Reference Group (GPFRG) was formed in 2019 by the Gumatj Corporation, Rirratjiŋu Aboriginal Corporation, Northern Land Council, the Northern Territory Government, Commonwealth Government and Rio Tinto to make sure the region has a positive future.
The GPFRG is working out how to transition the town of Nhulunbuy and the broader Gove Peninsula from a region sustained by mining to a region that thrives through diverse industries and local businesses and increases its role as a services hub for East Arnhem Land.
The Traditional Owners have taken the first steps towards a future beyond mining by releasing A New Journey Together – the Traditional Owners Vision for the Future of Nhulunbuy and the Gove Peninsula.
To ensure delivery of the Vision, the GPFRG has established six key work streams:
Land tenure and master planning – ensuring security of land tenure in Nhulunbuy to support new investment is achieved through a transition from the town's special purposes leases to new tenure arrangements under the Aboriginal Land Rights (Northern Territory) Act 1976 and that planning is undertaken for the town to meet future industry and community needs.
Economic development and transition – including supporting existing businesses to grow and diversify; building the capability of the local workforce; and attracting investment in new industries.
Essential services and infrastructure – including the transition of essential services, such as power, water and sewerage, to new authorities; and securing and improving enabling infrastructure, such as key roads, telecommunications, ports and airports.
Community and government services – including sustaining and strengthening core government and community services to support Nhulunbuy as a regional services hub for East Arnhem; and supporting the regionalisation of government services.
Town governance – including supporting the transition of Nhulunbuy into a gazetted Local Government Area.
Yolnu and Ŋapaki (non-Indigenous people) together – which includes actively supporting community strengthening initiatives, encouraging two-way positive relationships and working together to support a prosperous region.
Rio Tinto says preparing the town for a positive future after mining and ensuring it leaves a lasting legacy are very important parts of its mine closure plan that it is determined to get right.
The Northern Territory and Australian governments, through the National Indigenous Australian Agency, support the Traditional Owners Vision and recognise their roles in delivering a mutually beneficial and sustainable future for both Yolŋu and Ŋapaki across the Gove Peninsula.
At the launch of the Traditional Owner Vision in March 2021, Chief Minister Michael Gunner said: "The vision gives a clear direct role for all of us in achieving a prosperous future for the town and the region beyond the life of Rio Tinto's bauxite mine. We now have clear guidance about where we should head and how we should get there."
Many outsiders thought Nhulunbuy would be in decline after the curtailment of the alumina refinery in 2014.
But they underestimated the strength, resilience and resolve of the community and local businesses.
After a slump immediately after the refinery shutdown, the regional population has rebounded to pre-curtailment level and there are more small and micro-enterprises and services on the Gove Peninsula than ever before.
This was due to a number of factors, including the joint NT Government and Rio Tinto initiative in 2014 to establish the independent, not-for-profit company, Developing East Arnhem Limited, to help drive economic diversification and stimulate new opportunities in the region.
Local businesses have innovated, diversified and adapted to grow and prosper, even though the last 18 months have been challenging.
The Vision, released by Traditional Owner clans Gumatj and Rirratjiŋu, says of the mine closure: "This is the beginning of a new journey together. Today's leaders have the responsibility to look forward…
"We will create a diverse and innovative economy, with a choice of jobs. With the mine closing, the Gove Peninsula will become a place for new business ideas and partnerships, building on our special location and history.
"Yolŋu are on a journey towards economic independence. We have been building wealth through our own businesses and creating jobs for Yolŋu…
"We want to grow our existing businesses and develop new industries in Nhulunbuy and the wider region. We want to work in partnership with existing businesses and bring new investment to the region."
The Traditional Owners are looking for investment to realise their vision and leverage opportunities across the region.
"We seek partners that value our people's knowledge and want to work with Yolŋu in a commercial way.
"We have a vision for Nhulunbuy to be a base for tourism in East Arnhem, a gateway for us to share our culture and language with the rest of Australia and the world.
"Working with partners, we also want to create new opportunities in industries such as education and research, health and aged care, fisheries, transport and logistics, defence, forestry and land management.
"We want Yolŋu to own businesses in Nhulunbuy and earn income for communities, and for Yolŋu to take on new jobs. We have a vision for Yolŋu to be working across all different roles, with on-the-job training and pathways into management.
"Traditional Owners will be involved in town governance and will make decisions about land tenure that supports this vision. Nhulunbuy will remain as an open town. People will be able to come and go freely and buy and sell interests in land in a commercial way – without needing approval from Traditional Owners.
"This will ensure there is a strong economy in Nhulunbuy, with certainty for businesses and investors in land."
Traditional Owners envisage Nhulunbuy as a services and training hub that will attract people from throughout the Territory to the town by services available and training opportunities, including a university campus.
"Nhulunbuy will offer a full choice of education options for young people – including pathways to jobs, training and university."
Traditional Owners say schools should provide the opportunity to be a bridge between the Yolŋu and non-Indigenous worlds "with two-way exchange of culture".
"Nhulunbuy will also be a hub for health and aged-care services, so that Yolŋu can stay near family instead of going to Darwin for care. We want doctors, nurses and medical staff to live here, to help look after our old people, and to train Yolŋu to do this work.
"Yolŋu will take on more jobs in delivering services and maintaining facilities in the town…
"By making Nhulunbuy a services hub, there is an opportunity to save money for government and improve our quality of life."
The Traditional Owners say that the aim is to "keep everything that is good about Nhulunbuy and improve it".
"We want to keep the population large enough so that there are jobs in the region and sustainable services, so that people can access what they need to live a good life.
"With Rio Tinto leaving, there is an opportunity to improve the design of the town. We will make Nhulunbuy an exciting town, with more spaces for people to mix and more choices for shopping and dining…
"Our vision is to enhance community and sports facilities to make Nhulunbuy a healthy and exciting community…
"We will host sports competitions and exchanges, bringing together clubs and communities from across East Arnhem and the rest of Australia.
"We will work towards this vision for Nhulunbuy in balance with our other goals."
The Traditional Owners say investment in infrastructure is needed, including upgrades to Central Arnhem Road and the Gove Port.
Rirratjiŋu and Gumatj clans have already drawn up development plans – and some of them, such as a small Indigenous-owned bauxite mine, are underway.
But it is possible that the population will be greater by 2030 if other regional development initiatives start and are able to keep some people in town and attract newcomers.
Throughout the next 10 years, Rio Tinto is committed to providing access to opportunities for local and Indigenous businesses and community members to benefit from closure activities.
Last year, the miner spent $119 million with Gove Peninsula goods and service suppliers, $49 million of which was with local Indigenous businesses.
One of the key factors, under Rio Tinto's agreement with Traditional Owners, is ensuring the Traditional Owners are set up for the future by having business and economic opportunities and are able to foster and grow their businesses for now and after operations close.
"Nhulunbuy is a strong, resilient, entrepreneurial town and region and part of the closure project will be to ensure that local businesses are maximising the opportunities that Rio Tinto has available over the next 10 years," says Alicia Sherwood, Rio Tinto Aluminium's Northern Territory-based general manager of corporate and social performance in the Pacific.
At the Traditional Owner Vision launch, Mr Gunner reiterated the Northern Territory Government's commitment to strong regional communities, backing the region's journey together with the Gove Peninsula Future Reference Group members.
"We are working to progress the complex and important work that needs to be done over the coming years…
"We now have clear guidance about where we should head and how we should get there. It is your vision, because you know what is best for your region."
With a clear vision set, the hard work of the GPRFG has already begun with a particular emphasis on the workstream priorities, which will provide the right conditions for new investment.
There are opportunities for investment now and facilitated project and investment pathways available.
Information about the region and its opportunities is available through Developing East Arnhem Limited website.
The Traditional Owners invite you to join them on this new journey and to be part of the future of this extraordinary region.