BARRY COULTER
A DREADFUL MISTAKE
Some people acknowledge there is a good book in all of us, some not so kind claim that's where they should remain. I tested my luck with a three-book series.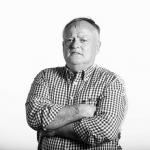 Words by

Nigel Adlam
Published

04 July 2021

In the first book I detail my discovery tour that I went on when my 77-year-old mother enlightened me as to who my biological father really was; I was 44 at the time in 1992. This was a gravesite confession which began my 27-year research into my genealogy and family history with three families involved – my mother's family, my biological father's family and my mother's husband's family. With the barest of information and my mother unwilling to cooperate, I engaged professional researchers and developed a relationship with amateur genealogical enthusiasts who discovered family members and engaged in a more scientific approach to discover my DNA matches. This was not easy and took a long time. I suffered some setbacks and overcame them with the support of new-found family members. The process was expensive but eventually very rewarding.
The title of the books remains the same. My mother would often describe me as, 'a dreadful mistake' when I was in trouble, or she was feeling down. I grew up in a cemetery for the first 12 years of my life, and I described the background growing up in this environment, 'Nobody slept over at our place, but we always had fresh flowers in the house.'
My mother's husband was an abusive man who loved to drink, who had grown up in a domestically violent situation with his father who had a long rap sheet and priors for violence. His mother had left him when he was aged seven and they were never reunited. His aunty then raised him, which was more like an early version of Guantanamo Bay. He started digging graves in 1937 when he was 26 years of age, and he took over as the sextant of the Eaglehawk Cemetery in 1943. He was an incredibly fit man, could be fun to be around from time to time, but followed his father into a life of crime at an early age. His first custodial sentence was when he was 19, and nobody should mess with him if he'd been drinking.
I described the impact this had on me and my mother in my early years as a teenager until I left the house and went my own way. Through my research I was able to ascertain how my mother most likely knew and met my biological father and the circumstances that led to my conception, the betrayal she suffered, and the heavy price she paid emotionally for bringing me into this world in the circumstances she did. As she would often say, 'I did the best I could.'
I am the last of my biological father's line, sharing a lot in common with him, particularly with regards to farming and horticultural pursuits, and I once bought a property overlooking where he used to live without any knowledge that he was my biological father. I'm now the custodian of his family's history, given to me by his sisters, one of whom was a previous nun and mother superior. I developed a relationship with her, and she became actively involved in helping me compile the family history over some years, from a very frosty start, a relationship that I will treasure for the rest of my life. This was before I acquired the DNA evidence and she eventually took me at my word, more importantly my mother's word.
Book 1 describes my early adult life, marriage to my childhood sweetheart, my move to Papua New Guinea and eventually to Darwin, my teaching career, community involvement in sport and social issues, and how I developed into a larrikin, outlaw and rebel who questioned everything, and could get things done.
Book 2 describes my political career from 1983 until my retirement in 1999 including my time as the Deputy Chief Minister and Treasurer of the Northern Territory along with being the longest-serving Mines Minister in the Northern Territory, the longest-serving Racing and Gaming Minister in the Northern Territory and the stories behind the stories that made the news of the day. I also outlined my 13 year association with the north-south railway from Alice Springs to Darwin, my involvement with the gambling industry particularly casinos, the return of the Strehlow Collection, the 'crown jewels' of central Australia's Indigenous people, my involvement with pipelines and the oil and gas industry which went from virtually nothing in 1983 to the multi-billion dollar industry it is today, my involvement in the development of the new port of Darwin and eventually becoming the inaugural Chairman of the Darwin Port Corporation. As Tourism Minister I was involved with the airline pilots' dispute and relate how the Sultan of Brunei came to our aid lending aircraft, my passion for the recognition of Darwin Harbour as Australia's equivalent to Pearl Harbor, including the history involved and my attempts to recognise it. As Racing Minister, I was involved with the introduction of corporate bookmakers into Australia, now a multi-billion-dollar industry and which eventually resulted in me becoming chairman of International All Sports, the first corporate bookmaker to turn over $1 billion annually.
In book 3, I rely heavily on company secretaries, board minutes, meeting schedules, annual reports, consultancy agreements, contracts and correspondence to validate circumstances and outcomes, both good and bad, above all I have tried to describe what an ordinary person can accomplish whilst remaining a larrikin. I go into detail regarding my 25-year association with Old Mount Bundey station and how I took it from a derelict property to a significant horticultural endeavour, a live cattle depot and mining service provider, as well as my involvement with the Northern Territory Gas Task Force, Stage 3 of the Ord River development, and my 14-year association as chairman of Australia's second-oldest airline, Airnorth, and how it grew from 'bug smashers' to jet aircraft.
Included is my involvement as chairman of the Defence and Industry Study Course, the first civilian to do so, normally at one or two-star rank, my failure to bring Sherwin Iron into production, other mining ventures including assisting with the manganese project for Mount Grace Resources, my consultancy with Santos in an attempt to develop some of their offshore resources, my seven-year involvement as a director with Northern Territory Airports and my passion to recognise and document its history as a crucial piece of infrastructure, not only for north Australia but for Australia in general. A particular privilege was my five-year involvement with the $5 billion Northern Australia Infrastructure Facility and the projects that have now been approved and are still in the pipeline and, lastly, my involvement as a director of Thoroughbred Racing Northern Territory. I explain how horses have always been in my blood and my belief that horseracing all over the Northern Territory cemented a strong social fabric throughout outback Australia and the powerful legacy this backbone provided to the early settlers, the Aboriginal communities, station owners and drovers.
Encouraged by Emeritus Professor Alan Powell from the Charles Darwin University, a former Dean of the Arts Faculty and later Professor of History and Political Science at the Northern Territory's university who has published more than 12 books on the Northern Territory's history, I have tried to provide the reader with as much historical context as possible on the issues that in many instances span over 100 years of the Northern Territory's development. My involvement and brief time in the spotlight and on the stage of the Northern Territory's progression to take its place as an equal partner with the other states of Australia, to pay its own way and not be a mendicant on the people of Australia, and my contribution to it. First published in 2021 Freestyle Publications Copyright © Barry Coulter Purchase online at
www.barrycoulter.com.au