Anindilyakwa Land Council
A BRAND NEW LOOK
Anindilyakwa Land Council is being rebranded to show its undoubtedly energetic, progressive, caring face to the world.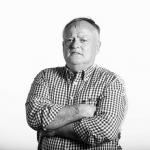 Words by

Nigel Adlam
Published

01 October 2020

Darwin-based Campaign Edge Sprout has been contracted to carry out the rebranding, which includes trademarking, new livery and brand portal.
The project and service offering are extended to strategic communication plans for operational areas of the business, business plans for the art centre, new websites and online store, digital marketing, press releases and media appearances by local people.
The service agreement contract requires a high level of community and executive consultation, time and understanding, working with chief executive Mark Hewitt, the board and the executive team at ALC to identify a needs analysis across all areas and work with them on the ground with support and skill development. This is about walking in both worlds together.
The Director of Campaign Edge Sprout, Anya Lorimer says: "The contract is the accomplishment of 25 years in the Territory and I couldn't be prouder. "We have become great listeners and are emotionally invested in the success of the Anindilyakwa people and future Groote initiatives."
The brand project has already seen ALC chair Tony Wurramarrba give a confident interview to ABC television about the push for Groote Eylandt to have its own local government council, rather than continue to come under the Nhulunbuy-based East Arnhem Regional Council.
Rebranding is all part of the land council's strategic plan to empower Traditional Owners by preserving culture and making the archipelago economically independent in line with the One people, One Family principle.
The project includes a striking, hand-painted piece of artwork by Alice Durilla. She made the paintbrushes from human hair.
The work shows Barnimbirra (Morning Start), Yurnaduwaya (stingray) and Mangwarra (hammerhead shark).
Alice is justifiably proud of her work. "I'm very happy with the finished piece," she says. "It's for all the clans." The project saved an art form from extinction. Alice's work is painted in the ancient dash art form, which exists only on Groote.
She needed permission from the Anindilyakwa Land Council board to continue dash art following the passing of her husband, an accomplished dash artist. Alice and her daughters, Chelsea and Emily, are now able to continue dash art and preserve one of the oldest art forms in the world.