NCCTRC
TRAUMA CENTRE'S RAPID RESPONSE
As Australians watched the catastrophic bushfires wreak havoc across the south coast of New South Wales and northern Victoria in January this year, the National Critical Care and Trauma Response Centre, winding up an almost two and a half month deployment to assist with the measles outbreak in Samoa, was keeping a watching brief on an outbreak of a respiratory illness in Wuhan, China.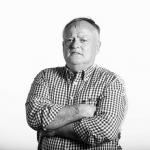 Words by

Nigel Adlam
Published

01 July 2020

At the time, the NCCTRC had deployed at the request of the Australian Government several small AUSMAT teams to support the NSW and Victoria health departments in providing health support to the residents in bushfire-affected areas.
But the virus was raising red flags with Professor Len Notaras AM, who heads up the National Critical Care and Trauma Response Centre. His first thought was the virus was a super spreader and had potential to cause a global pandemic. The capability of AUSMAT to respond to an infectious disease had been tested during the 10-week deployment in support of the Samoa Government.
Areas for improvement were identified and additional equipment purchased to ensure the AUSMAT capability could be rapidly deployed to multiple sites if the Australian Government was required to respond to Covid-19. Since late January, the NCCTRC has coordinated and deployed AUSMAT in response to Covid-19 in four significant missions.
The Christmas Island and Howard Springs quarantine of Australians in late January and early February meant the Northern Territory was ahead in its planning for the arrival of Covid-19. "The Northern Territory has been incredibly fortunate that it has only had 29 Covid-19 cases, and all have recovered," Professor Notaras says. "We knew in those early days what we needed to plan for and what response was required."
In March, the WA Health Department requested AUSMAT support for the quarantine facility established on Rottnest Island for Australians returning on cruise ships. A short time later, AUSMAT managed the Covid-19 outbreak on the German cruise ship MS Artania docked in Fremantle. Eighty-one passengers and crew tested positive to the virus and, tragically, there were three deaths linked to the outbreak.
The AUSMAT managed the passengers and crew in quarantine in a hotel in Perth for three weeks before the ship finally sailed out of Fremantle on a four-week journey back to its home port in Germany. The crew and ship returned home with no further outbreak of Covid-19. Further support was requested while AUSMAT was in WA.
In late April, six AUSMAT personnel were deployed to support the Covid-19 outbreak in north-west Tasmania. The team working with Australian Defence Force medical personnel provided essential emergency care services following the closure of the Northwest Hospital in response to an outbreak of the virus, which resulted in 1200 health staff quarantined.
As Territorians learn to live with "new normal", the NCCTRC continues to prepare for the next response. "The rapid response capability of the NCCTRC and ultimately AUSMAT comes down to the planning and preparedness and collaborating with our partners locally, nationally and internationally," Professor Notaras says. TQ