Department of Trade, Business and Innovation
TRADIES WELCOME
Tradies are being encouraged to attend October Business Month – and they're welcome to turn up in their hi-vis.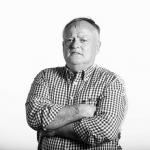 Words by

Nigel Adlam
Published

01 July 2019
Organisers fear tradesmen and women mistakenly feel that OBM is a bit of a tie and canape affair. But nothing could be further from the truth. The Department of Trade, Business and Innovation knows that more than 99 percent of Northern Territory businesses are small or medium sized – and a hugely important sector are the traditional trades.
A major new suite of events will be staged this year by OBM Platinum Partner TIO to further entice this group to attend OBM events, entitled the TIO Tradie Talks. Fifteen seminars covering a range of topics are already on the calendar for this year's OBM. TIO have been long-term supporters of many community events and initiatives over their 40 years of operation in the Territory – and OBM is no exception. Chief Executive Officer Daryl Madden says partnering with October Business Month for TIO Tradie Talks is a logical step for the Territory's local insurer.
"We're a local insurance provider who understands the operating and environmental conditions of the NT, and we understand no two businesses are the same. "These trade-focused small business masterclasses give our local trades people the opportunity for development in areas they might not be as proficient in as their actual trade, supporting them to increase the capability of their small business.
"Our partnership with October Business Month is in its third year, and we've been pleased to be able to expand our involvement to incorporate TIO Tradie Talks in 2019."
Topics that you can expect to be covered in the TIO Tradie Series are tender writing and applications, bookkeeping, tax, invoicing, work health and safety, creating a professional brand, digital marketing and mental health. Treeti Business Consulting will be hosting sessions throughout TIO Trade Talks.
One topic they will cover is sole traders, particularly those who conduct their business "on the road". Treeti head of digital solutions Dante St James says when large-scale projects wrap up there is often a number of tradies from those projects starting  their own operations as sole traders. "But with lifetimes as employees or contractors behind them, rather than independent business owners, there are simply things they didn't have to consider previously, such as marketing, bookkeeping and taking payments while they're on the road.
"While there are a lot of inexpensive tools to help with marketing, invoicing and payment processing, the training and assistance they come with are delivered with online tutorials, help files and chatbots – not by real people in-person who use it, know its quirks and are right here in the Territory." TQ