TQ PIONEER NICK LOVERING
Nick Lovering is refreshingly honest about his reason for becoming a teacher – he wanted to play cricket.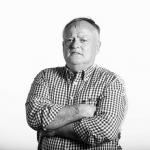 Words by

Nigel Adlam
Published

06 October 2021

"I knew I would be able to play throughout my summer holidays," he says.
It turned out to be an excellent choice of career and he has no regrets about an enriching 20 years in a profession once described as "lighting the way for others".
He has spent the past 15 years working in regional and remote Northern Territory schools – and has loved nearly every minute of it.
The difficult-to-play spin bowler (ret.) is the new principal of 580-student Katherine High School.
He has lived in the town for 11 years and is deeply involved in the community.
"Local knowledge, understanding the different communities, is an advantage for me.
"Katherine High is a very complex school. There's a wide socio-economic range.
"My mantra is that things such as disadvantage, poverty and trauma obviously have an impact and we need to understand that. But our aim is to educate, and we need to focus on teaching quality lessons and make sure we are teaching to the curriculum and not get distracted."
He says teaching has changed.
"Schools are being asked to do more and more to fill in the gaps that were traditionally filled by families and provide teaching around personal values. It can be distracting."
Mr Lovering was born in Tasmania.
"My father was in real estate, worked weekends and lived primarily on commission.
"My mother passed away after a long illness when I was 19 and my brother 13. Dad did a terrific job as a single parent to offer us the opportunities that he did.
"He always emphasised to me the importance of a profession so I would have a regular wage."
Mr Lovering gained a teaching degree from the University of Tasmania and immediately went to London to teach and play cricket.
He met his English wife-to-be Sally in Britain, and they were married in her hometown of Worcester.
After five years in England, he accepted that he wasn't going to make it as a professional cricketer and returned to Australia to teach at Palumpa school in the Daly River region.
It was the couple's first visit to an Indigenous community.
"We look back on our time in Palumpa as a great experience. It changed our perspective of life."
Mr Lovering later went to work at the Douglas Daly Research Farm school, which only had eight students.
"We met some great people and enjoyed the whole experience."
His first "leadership role" came a few years later when he became assistant principal at Clyde Fenton primary school in Katherine, followed by an interesting stint at the now abolished Katherine Group School, which included mentoring teachers working in remote communities.
"I knew that going to work in a remote community was going to be completely different to anything we'd experienced before.
"I remember being told a great truth about Indigenous communities: the more you learn, the less you know. Every community is different. Teachers can't have a blanket approach. They need to understand each community."
Mr Lovering later became assistant principal of the Katherine School of the Air.
"I loved it – it was a fantastic experience. I dealt with so many of the great Territory families: the Buntines, the Underwoods and many more."
He says the NT's React, an early remote satellite dish video communication program that allowed students to see each other and their teachers, rather than just talk by radio, was "world leading".
"One of the things that the Territory is world-class at is distance education."
In 2016, he led the school of the air's 50th anniversary celebrations.
After five years, Mr Lovering became principal of Casuarina Street primary school.
He had big shoes to fill – former principal John Cleary was acknowledged as having done a marvellous job over many years.
"I wanted to add my flavour to the school but also be respectful of what had been achieved by the previous principal. I didn't change what didn't need to be changed. It was like becoming coach of a cricket team – you don't sack your best opening batsman.
"I learnt a lot, particularly about how to manage staff. It was a great learning experience and I worked with wonderful people."
Mr Lovering and his wife have four children: Millicent, 14, Finley, 13, Stella, 10, and seven-year-old Erin.
He believes that his sporting career has helped him build leadership skills that are applicable to school life.
"There's a clear crossover between the skills."
He has demonstrated those skills away from the cricket pitch and classroom – in 2015, he helped resurrect the defunct Katherine South football team, which draws players from the town and surrounding communities.
And the Crocs proved they had learned their lessons well by winning the premiership two seasons later.