Sunbuild
SUNBUILD CELEBRATES
Northern Territory born-and-bred construction company Sunbuild is celebrating its 25th anniversary.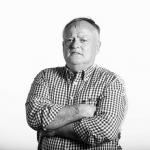 Words by

Nigel Adlam
Published

01 January 2020

A head-spinning amount has happened since Neil Sunners surprised partner Jim Eadie just before Christmas in 1994 by saying: "Let's go into business together."
The firm has since completed 270 projects – ranging in value from $1 million to $88 million – and won 23 major Master Builders awards. It has earned an enviable reputation for doing a world-class job for a reasonable price.
Sunbuild has also given back to the community by sponsoring sports, supporting charities and training apprentices.
Jim says there are three key elements to the company's success: quality, timeliness and integrity. "We do a job well and on time," he says. "And we honour what we say – if we say we're going to do something, we do it."
Sunbuild has an extraordinary record of fixing any problems, even several years after the project has finished.
The company's ethical way of operating is drummed into staff from day one.
"Many apprentices have grown through our business," says Neil. "They understand our work culture. They know that our reputation comes first. Our good reputation comes from hard work and our commitment to an ethical work culture."
Five apprentices – Joe Martin, Neil's son Chris, Rory Milner, Wayan Jenkinson and Maddy George – are now supervisors.
Joe was Sunbuild's first apprentice more than 20 years ago. And Rory is the 2019 Australian Apprentice of the Year.
"We're very proud of Rory's achievement," says Neil. "His head is too big to get through the door at the moment."
The company developed many of the Territory's iconic buildings, including The Spirit of the Avenue urban village, Evolution, the Charles Darwin Centre, Darwin Abattoir, Admiralty House, Skytower and the Darwin rail terminal.
It also built some of Darwin's most popular buildings, such as Parap swimming pool, the netball stadium at Marrara and the much-needed carpark at Royal Darwin Hospital.
One of the latest projects is the troppo visitors' centre at the George Brown Botanic Gardens.
Sunbuild built all three Bunnings superstores in Darwin and Palmerston; the third is nearly finished.
The firm is working on seven projects, including stage 2 of Zuccoli Primary School in Palmerston, Lays Dry Store Stage 3, a cold store at Darwin International Airport, the mental health unit at Darwin Private Hospital and a subdivision in Daly Street.
"Like all businesses, we've had hard times," says Neil. "But we've never lacked work."
And Jim says: "Those hard times are often for the better. Sometimes you need a kick in the guts to make you stronger."
Many clients are repeat customers – Sunbuild has completed projects for many of the Territory's best-known business people up to a dozen times each.
"Repeat custom means we must be doing something right," says Neil. "Obviously, we chase new clients but we're always grateful for the support from those we've worked with for many years."
The latest new client even got the bureaucrats in Canberra talking – a $2 million project for the US Defense Department at RAAF Base Darwin.
Sunbuild was the first Australian company to win a US military contract.
"And we're local," says Neil. "We ticked all the boxes. The Australian Defence Department was very excited for us. It's not a huge project, but it's a significant breakthrough."
US Defense plans to spend $2 billion in the Territory over the next 20 years; the Australian Defence Department will spend 10 times that. All this seemed unlikely when Jim quit his job as project manager at Barclays in Darwin in the 1990s. He was baffled when Neil, who was the general manager, said he couldn't accept his resignation – it would have to go to head office in Brisbane.
All became clear a short time later when Neil went to Jim's home one evening and told him: "I couldn't take your resignation because I had also just quit. Fancy going into business together?" They weren't daunted by the prospect of giving up a good, regular salary, holiday pay and superannuation.
"Right from the start, we were confident that we would succeed," Neil says. "We had faith in our own abilities."
Sunbuild is a community-minded company. It sponsors the Territory's Gran Fondo endurance cycling event each year and supports the Humpty Dumpty Foundation, which buys hospital medical equipment for children.
"Humpty Dumpty is a great charity," says Jim's wife Pam. "We're very happy to give our support."
The charity has literally saved lives – for instance, it paid for a special crib to carry desperately sick babies from Royal Darwin Hospital interstate for highly specialist treatment, which meant critical time was saved not having to fly a crib to Darwin. A boy who had survived because of the crib won everyone's heart when he turned up to the Humpty Dumpty annual fundraising dinner in Darwin last year.
Sunbuild sees itself as more than just a business.
"We look after our staff and make sure they're deeply involved in everything we do," says Neil. "We're a family."
The company is preparing for the future with great optimism.
"We're looking for a general manager to mature the business even more. We know the Territory is going through tough economic times, but this is our home and we believe in the place. And we're proving that by continuing to invest." TQ