Sun Cable
SUN SHINES ON THE TERRITORY
One of the men behind plans to build a $20 billion solar farm in the Northern Territory Outback is confident the project will go ahead.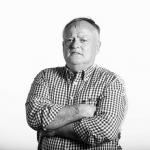 Words by

Nigel Adlam
Published

01 October 2019

David Griffin, who has built wind farms and solar arrays in Australia and South Africa over the past 19 years, is aiming for financial closure by late 2023. This means sun-powered electricity could be transmitted to Darwin and onto Singapore within a decade.
The solar farm near Tennant Creek would be the biggest in the world.
"I've always thought that it's a shame Australia hasn't developed a solar transmission network," says Mr Griffin, chief executive of Singapore-based Sun Cable. "But transmission technology now makes it viable. The time has come."
The Northern Territory Government's Department of Trade, Business and Innovation has granted the venture Major Project Status, which means it will be fast-tracked through the legal processes. Major Project Status is granted to projects that the Government considers capable of making a significant contribution to the Territory economy.
Sun Cable wants to build a 10 gigawatt solar farm and a 20-30 gigawatt hour storage plant to export electricity to Darwin and Singapore via high-voltage overhead transmission lines, and an underground and sub-sea cable.
Onshore works would create about 1300 jobs for 2.5 years and employ 150 workers directly and a further 30 indirectly during operation.
Tennant Creek is the perfect location for the proposed giant solar farm because it has one of the highest solar irradiance resources on the planet – and plenty of land.
Darwin's power is fired by gas and, as a backup, diesel; Singapore is almost totally dependent on gas.
Singapore, which has a population of 5.6 million but is only one quarter the size of Greater Darwin, is an economic powerhouse in South-East Asia.
The Australia-Singapore Power Link is timely because the 10 members of the Association of Southeast Asian Nations – Brunei, Cambodia, Indonesia, Laos, Malaysia, Myanmar, Philippines, Singapore, Thailand and Vietnam – have agreed to link their electricity grids.
A united grid could also eventually be linked to the China network.
The Sun Cable project is already engaging Territory contractors and will seek to manufacture prefabricated solar farm technology in Darwin and Adelaide.
The Government believes the project is a gamechanger for the NT and will further the Territory's growing reputation around the world as a place to do business and invest.
Not only does it announce the Territory as a major world player for renewable energy exports, but also a future where clean, cheap, reliable energy creates local jobs.
A Project Development Agreement will now be negotiated between the NT Government and Sun Cable to create the framework for steering the project through the necessary approvals,
Sun Cable will be required to prepare an Environmental Impact Statement and a Territory Benefit Plan.
Mr Griffin says: "The Northern Territory is proving to be a great jurisdiction to work in. We look forward to advancing the project with the Northern Territory Government's support."
The Territory now has a string of multibillion-dollar projects in the pipeline, including the Sea Dragons prawn farm, the Mt Peake mine, and onshore oil and gas. TQ