ConocoPhillips
SHARING IN TOP END CULTURE AT DARWIN LNG
Operating Darwin LNG in the Northern Territory over the past 13 years has introduced ConocoPhillips to the rich and layered cultural landscape of this part of the world.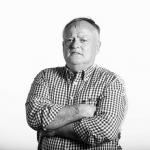 Words by

Nigel Adlam
Published

01 October 2019

Through programs with the Larrakia, Aboriginal and Torres Strait Islander communities and the broader NT community, this culture has become an embedded part of the organisation. Across its Australian operations, ConocoPhillips has been fortunate to work with and alongside the Aboriginal and Torres Strait Islander communities to learn about their culture, and connection to country.
Darwin LNG operates on Larrakia country and works closely with the Larrakia elders and broader Larrakia community to develop a range of programs that train and employ local talent, develop business opportunities and reflect the rich culture across business activity.
One of the key groups supporting this work is the Wickham Point Deed Reference Group (WPDRG); a Larrakia reference group consisting of representatives from the different Larrakia family groups and ConocoPhillips staff from different parts of the business. Each quarter the group meet to provide advice, discuss programs, and bring ideas and issues to the table.
In the last four years, employment and training has been a key focus area. Across ConocoPhillips' activity in Darwin, there are 17 traineeships and trade apprenticeships being undertaken. Of these, 65% identify as Aboriginal and Torres Strait Islander, with Larrakia people representing 47%. There is a Larrakia person engaged in every type of traineeship and trade apprenticeship offered across operations, trade, warehouse, asset integrity and administration.
The support of the WPDRG has been integral to the success in this space; providing advice on the programs and communicating opportunities through their networks has brought some world class talent into the recruitment pool.
ConocoPhillips Australia devotes a lot of energy to developing its workforce and keeping high performing candidates in the organisation. It's a testament to this that many of the Larrakia, Aboriginal and Torres Strait Islander trainees are now in high functioning roles across the business.
Shanhan Mullins commenced a two year traineeship at ConocoPhillips Australia in 2012, studying Certificates II and III in Business before going on to complete a Diploma of Business Administration. Shanhan now works as a Travel and Logistics Administrator in the Supply Chain team.
"In this role I've had the opportunity to travel to Dili in Timor-Leste to see first-hand the procedures involved for personnel travelling offshore. If you're eager to learn and willing to step out of your comfort zone, the opportunities available at ConocoPhillips are endless," said Shanhan.
Sonny Malmerin-Fejo is a Larrakia man who completed his Certificate III in Warehouse Operations and went on to win Aboriginal and Torres Strait Islander Trainee of the Year at the 2018 NT Training Awards. He is now working with Qube helping to manage warehousing and logistics for the Bayu-Undan and Darwin LNG operations.
Brendon Watson was one of the first Operator Trainees to come through the Darwin Operations Centre Training Academy (DOCTA) and as an Operations Technician, he has obtained a range of plant and process competencies including the Central Control Room Operator and Senior Permit Authority.
ConocoPhillips Australia also looks to enable capacity building opportunities for Larrakia, Aboriginal and Torres Strait Islander people outside of its own industry. A long-term partnership with Charles Darwin University was repurposed to address skills shortages through training programs developed in consultation with the WPDRG.
In 2017-2018, the program offered two heavy truck driving programs to Larrakia, Aboriginal and Torres Strait Islander students. Participants gained both classroom and on-the-road skills and worked with a host employer. The program was revitalised for 2019 into a comprehensive, 20-week health services program and has yielded strong employment outcomes for participants.
Support of the National Indigenous Music Awards continues – a national event that found its roots in Darwin and remains to be the night of nights for Australia's First Nations musicians – while opportunities are seized to reflect and integrate Larrakia culture across key community investment programs including the NT City2Surf, Darwin Symphony Orchestra, Clontarf Foundation and industry conferences.
Weaving the culture of the Larrakia, Aboriginal and Torres Strait Islander communities through the business is a key priority for ConocoPhillips Australia.
Darwin LNG recently celebrated the safe departure of its 700th cargo of LNG and a Larrakia Smoking Ceremony was organised to coincide with the occasion. A Smoking Ceremony is a significant ritual that cleanses and creates new energy, paving the way for the future of Darwin LNG. It was a privilege to have a respected Larrakia Elder and family members perform the Ceremony and have members of the WPDRG attend.
Larrakia Nation Aboriginal Corporation (LNAC) have rolled out an Ambassadors Program to promote cultural awareness, and Darwin LNG has engaged LNAC to deliver cultural awareness training to the workforce. Up to 20 sessions will be presented, offering an understanding of Larrakia history, culture, key values and relationship to country. Participants cannot speak more highly of how fascinating, insightful, and on occasion heartbreaking, the training is.
In other cultural initiatives, the firewater tank at Darwin LNG will soon be transformed from a blank canvas when it is adorned with a significant work of art by Larrakia artist, Shaun Lee. The piece depicts a barramundi, turtle and crab sitting alongside handprints and people, signifying the relationship between the Larrakia and the environment. It's the first time an artwork of this scale and size has been installed at Darwin LNG and will be hard to miss driving into the facility!
And speaking of driving: soon the 15 generically named streets of Darwin LNG will receive an injection of Larrakia culture when they're updated to reflect the variety of flora and fauna found around Wickham Point and the Top End. From Damirrinda (ant) street to Wagardi (dingo) and Dimabila (barramundi) streets, this initiative has come about in collaboration with the workforce at Darwin LNG and the WPDRG.
Working with the Larrakia, Aboriginal and Torres Strait Islander communities to develop these initiatives brings something distinctive into the business and creates a unique culture reflective of both the organisation and the landscape in which it operates.
Darwin LNG looks forward to building on this foundation. TQ