Rimfire Group
RIMFIRE ENERGISES THE SOLAR WORLD
Darwin-based energy company Rimfire Group has successfully developed two Northern Territory power projects as part of its push to lower electricity prices for Territorians.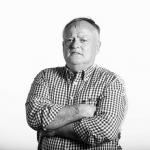 Words by

Nigel Adlam
Published

01 October 2020

The projects are:
• A 10MW single-axis tracking solar farm on a 20-hectare site at Batchelor, 100 kilometres south of Darwin.
• A 12.5MW gas-fired power installation on 16,000 square metres at Hudson Creek on the outskirts of Darwin.
Rimfire's project team did all the complicated groundwork, including securing the land for both projects, gaining licensing and connection approvals, and negotiating contracts.
"It's the first time a project like this has been fully developed by a Territory company," says company managing director Michael Allen.
The project was made possible with private capital from Merricks Capital and without a government-backed offtake. "It was a real breakthrough and shows faith in the Territory," says Mr Allen. "We had to solve major challenges – financial, procedural and structural. A lot of people told us it was not possible."
The projects are supporting 80 full-time equivalent jobs during construction and will support 10 during operation. They are part of Rimfire's strategic growth and diversification plans since commencing operations in the Territory in 2014.
Rimfire Group's retail entity, Rimfire Energy, buys electricity from Territory Generation and onsells it to commercial and residential customers in Darwin, Katherine, Alice Springs and Tennant Creek.
The company, which has a team with more than 100 years' experience in the electricity industry, is still by far the largest non-government electricity retailer in the Territory.
"We provide a competitive and commercial alternative for the supply of electricity by offering competitive prices on negotiated commercial terms delivered through high-quality customer service," says Mr Allen. Rimfire has played the major role in bringing competition to the market since deregulation five years ago.
SUN WORSHIPPERS
Rimfire has made a successful entry into solar installation and maintenance for businesses and private homes. "The solar part of our operations started when we sold electricity to commercial customers and they asked if we installed solar," says Mr Allen.
"And after we had installed solar at their business, they often asked us to do the same for their house." Rimfire installs solar for businesses and homes of all sizes. "The solar side of our business has grown and we're now one of the leading installers in the Territory."
Mr Allen says Rimfire identified an opening in the market for a top-flight solar operation.
"Given the harsh local climate, Territory solar systems must be installed in accordance with strict install guidelines," he says. "People should be careful to select a reputable installer who understands the local climate and requirements and is prepared to stand by their work.
"Rimfire Projects has its own engineering, design and install team in-house and, being local, is able to provide maintenance services once the installation is complete."
Rimfire Projects is now doing almost daily installs of residential systems in addition to numerous installations of larger commercial systems. One of the latest jobs was installing solar power at the 14-storey The Avenue urban village in Stuart Park, Darwin.
The Avenue's caretaker-manager Kerry Osborne says Rimfire were incredibly efficient and professional.
"We were so pleased with them that we're recommending them to everyone," he says.
"They truly went above and beyond. I couldn't have asked for a better job." The installation was challenging because of the size of the residential-commercial building.
But Mr Osborne says Rimfire followed a strict safety regime and the 200 property owners were "very happy". Mr Allen says Rimfire growth and diversification all has the same aim – to bring down the cost of electricity for all Territorians.
CONTACT
Rimfire Group
Level 1, 48-50 Smith Street
Darwin NT 0800
GPO Box 2136 Darwin NT 0801
08 8943 0650
enquiries@rimfireenergy.com.au
rimfireenergy.com.au