REAL ESTATE CENTRAL: THE TERRITORY FIRM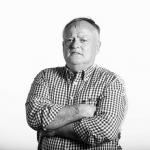 Words by

Nigel Adlam
Published

10 July 2023

BRADEN MENZIES – A NATURAL ENTREPRENEUR

We're not a franchise, we're not part of a national company. none of our money goes interstate – all our profits go back into the territory economy.
Self-confessed fishing fanatic Braden Menzies came to Darwin as a boy to catch barramundi.
At first, he lived rough on the Mandorah jetty, swapping his catch each day in exchange for a feed in the pub.
Today, he owns the largest and most successful real estate business in the Northern Territory – from "reel to real estate," as he likes to say.
Braden is enormously proud that Real Estate Central is thriving and is also fully Territory owned.
"We're not a franchise, we're not part of a national company," he says. "None of our money goes interstate – all our profits go back into the Territory economy."
The staff motto is: never damage the brand.
And that brand demands honesty, good advice, hard work and friendliness.
"None of us drive around in BMWs. We're Territorians and pride ourselves on being open, upfront and down to earth. "We want the best for our clients.
We want to make them happy.
"Nothing beats seeing the look on someone's face when they buy a property, especially their first home."
Many of the agents have been at Real Estate Central for many years.
"We've created a workplace culture that means people like working here," says Braden. "When they're happy at work, they gain personally and the client gains. Everyone is a winner.
"Real estate agents have got to like people, have got to enjoy working for someone else's best interests.
"We've got most of the leading agents in town. We've all got passion for what we do."
Agents are given extensive training and mentorship so that they remain the Territory's best.
Real Estate Central has more than 50 staff, including agents, property managers and office administrators – and sells tens of millions of dollars of property every year.
It has captured a staggering 30 percent of the residential property market in Darwin.
And the company manages about 2000 residential and business properties.
Hayley Hosking, who has run the property management arm of the company for 10 years, has joined Braden, Sascha Smithett, Michael Van De Graaf and Dan Harris, as a director.
Braden says the property management team of 23 does an "extraordinary job".
"They are mostly women who can multitask, who can get things done. They are incredibly efficient as mediators between landlord and tenant. I can't praise them enough."
Realestate.com ranked Real Estate Central 15th out of the 20,667 real estate agencies in Australia.
Four businesses operate out of the company's city centre HQ, including one owned by the energetic and highly-motivated Dan Harris, the Territory's most successful real estate agent.
He has been recognised as the NT's best agent by realestate.com and REINT for the past two years.
Sascha has been an extraordinary business partner.
"We haven't had an argument in 15- plus years," Braden says. "She has been one of Darwin's leading agents for that whole time – an outstanding achievement to do so well for so long as a top agent."
Braden was born in the remote Western Australia town of Karratha, where his father worked on the iron ore mine, but moved to Maitland in the Hunter Valley when still in primary school.
"I hated it there and couldn't wait to get out."
He left school after year 10 and went to work as a deckhand on a prawn trawler out of Newcastle.
The teenage adventurer then made the momentous decision to move to Darwin – "because that's where the barra were".
Braden didn't have to spend too long living on the Mandorah jetty before fellow fisherman Scotty Sweeney and his family took him in.
He later became a full-time fishing guide and set up a company called, appropriately, Obsession Fishing. But he sold it to Justine Jones when he and his Darwin-born wife, Jessica Lam, were expecting their first child. He joined a real estate firm and three years later went out on his own by establishing a property management business with legendary real estate agent Sascha Smithett.
As the business grew, they partnered with Michael Van De Graaf. Braden turned out to be a natural entrepreneur.
The founder of Darwin's largest real estate company and Jessica, who have been together for 27 years, have three sons, Tom, Max and Sam.
Jessica owns Evolution Physio in the Evolution skyscraper in Darwin city centre. "She's the best physio in Darwin – and the best wife," says Braden.
Real Estate Central and its agents have won a swag of awards over the years, but they prefer to be thought of as good corporate citizens, who readily give back to the community.
The Real Estate Central Group and its agents support a host of good causes, including St Mary's Football Club NT, Rejex Rally, Territory AFL prodigies Maurice Rioli Jnr and Daniel Rioli, who play for Richmond, Starlight Children's Foundation, Careflight, RSPCA, Total Recreation, St John Ambulance, Leukaemia Foundation, Challenge, which supports kids with cancer, Alzheimer's Australia, Government House, Nightcliff and Darwin cricket clubs, the cricket Strike League, and a myriad of sporting clubs and schools.
Real Estate Central is also involved in events such as the Relay for Life and Australia's Biggest Morning Tea, supporting the Cancer Council.
One of the company's agents, Simon Watts, who has worked for Real Estate Central for 15 years, has raised more than $310,000 for charity through the Darwin to Katherine Bike Challenge.
"That's an outstanding achievement from an outstanding person," says Braden.
"So many of our staff give back to the community – and they do it without hesitation."
CONTACT
Real Estate Central
39 Cavenagh Street Darwin
(08) 8943 3000
sales@recentral.com.au
recentral.com.au