Campaign Edge Sprout
PARTNERS ENJOY A CUTTING EDGE
Fast forward 12 short months and a Darwin born-and-bred company has become the most comprehensive digital advertising firm in the Northern Territory after a merger with one of Australia's premier creative agencies.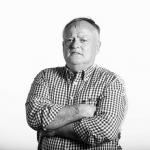 Words by

Nigel Adlam
Published

01 October 2019

Sprout Creative was a well-established business offering quality creative services for more than 18 years. The merger with nationally-renowned Campaign Edge has elevated the company to a full-service marketing enterprise offering advertising, digital marketing, media placement, TVC production and graphic design – all from the same city offices at 51 Smith Street, Darwin.
Campaign Edge Sprout managing director Anya Lorimer says she is happy with the results the new partnership is producing.
"The partnership is going really well," she says. "We've picked up a range of new clients."
For instance, Campaign Edge Sprout has brought back the Darwin Motor Group account to the Territory from Queensland and produced the latest MACC and TIO brand TVC and digital advertising campaigns.
"We knew that the key parts of the market in which we needed to increase our service offering were around digital and full-service video content production," Anya says.
She says the company has hired the "best young gun in town", Steven Hoare, and built an edit suite and studio space in-house, which allows the firm to work with clients to create TV, radio, motion graphics, and digital video content for the campaigns and communications.
The company's newly renovated offices are decked out with an arsenal of editing and digital design tools. All services are performed in-house, from branding to copy writing to editing. The expanded offices allow Campaign Edge Sprout to give customers a one-stop shop – web design, brochures, full advertising campaigns, radio and television commercials, editing and proofreading and audio visual projects, with specialised equipment provided. Among the new equipment is the latest in digital cine cameras from a Super 35mm Digital Cine Camcorder with fast glass to mirrorless, DSLR and a pro Drone for aerial photography.
Steve says: "A new dedicated production and media suite to Campaign Edge Sprout allows us to cover your story from concept to completion, including scripting, voicing, lighting, shooting, studio to live event coverage, commercial and documentary production."
Among the new staff dedicated to this new suite is Jean-Eddy Moutou, who has great design and motion graphic experience and helps to expand the company's digital capacity after the merger.
Darwin-born Kristy Brown is also onboard with the new digital focus. Kristy is upskilling further into the digital delivery and animation space, which means her career is fast tracking with the rate of technology.
The new facility keeps Campaign Edge Sprout evolving as an agency and keeps them on the top of the game. Campaign Edge Sprout's new editing suite is also equipped with its own photographic studio.
"Production is handled with care and attention to detail, with a full edit suite and a studio where we can shoot green screen and interviews with studio lighting," says Steve.
All post-production editing can be done in Darwin. The dual screen edit suite is prepped for colour grading, sound mixing and motion graphics animations.
"We've shot many stories, edited countless of hours, hit our deadlines and covered some amazing events and moments never to forget,'" says Steve. "Our aim is to keep it coming with quality, thought-out production and excellence in all deliveries."
Campaign Edge Sprout sponsor more than $100,000 worth of creative services to support Territory events and organisations, including OBM, Facing North, NT Resources, Foodbank and HPA each year.
All this activity and growth has been going on amid the continued publishing of Territory Q, written, designed and edited in-house. TQ will also be undergoing a digital upgrade and launch of a new online news platform in coming months.
Anya says "TQ will be expanding our print platform to offer digital company profiles, online advertising opportunities, filmed interviews and ongoing project updates." TQ