Nous Group
NOUS RISES TO THE CHALLENGE
As it enters its third year, Nous Group's Darwin office is working with government, business, not-for-profit and Aboriginal community-controlled organisations taking on some of the Territory's biggest challenges.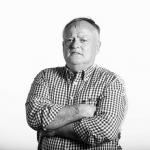 Words by

Nigel Adlam
Published

05 October 2021

From supporting the NT Government's reforms to the way it works with Aboriginal Territorians to assisting the Territory's economic reconstruction and improving primary health care, the Darwin office of the international management consultancy has ideas and expertise to achieve real progress.
As Darwin office leader Tom Leeming says, Nous brings capabilities and a style of work that are a neat fit for the Territory's agenda.
"We are ready to help people solve problems and drive real change," he says. "Our NT team has strong capabilities in leadership, organisational performance and strategy, which are all vital in helping organisations reach their potential, as well as expertise in policy, data analytics and evaluation to help develop interventions that have a real impact."
More than 90 percent of Nous' work in the NT is undertaken by employees who are permanently based in the Territory. Unlike other consultancies, Nous has a team on the ground in Darwin, based on Smith Street, ready to work alongside clients.
"We know the value of being here and spending time on site with clients," Tom says. "We're not endlessly dialling into meetings."
Initiatives such as Lunch and Learn sessions allow in-person to contact between the Nous team and clients to transfer skills in a spirit of collaboration.
The local presence also means that working with Nous aligns with the NT Rebound economic reconstruction agenda to grow the Territory economy to $40 billion in the next decade.
"The Northern Territory is our home, so funds spent with us contribute to the local economy," Tom says. "Nous is committed to investing in the NT through infrastructure, business development, employment and upskilling, increasing capacity and capability."
Tom, who lives in Darwin with his wife and two children, specialises in big strategic thinking with government and not-for-profit clients on the connections between health, human services and economic development.
His 14-strong team combines consulting acumen with local knowledge and Indigenous lived experience.
Deep consulting experience is offered by Rob Sale, who brings expertise in monitoring and evaluation, along with Kendra Cockburn, whose work on human services involved contributing to the development of the National Disability Insurance Scheme.
Long-term Darwin resident Jane Alley is familiar with policy reform in the Territory while Hichem Demortier has worked with the Territory not-for-profit and Aboriginal community-controlled sectors on management, governance and leadership.
And Selina Swan and Cameron McBroom draw on their experience as First Nations people to support clients to engage with Indigenous communities.
"We have worked hard to achieve a critical mass of really smart people in Darwin who are happy to go above and beyond expectations and offer a consistent high quality of service," Tom says.
The local team is backed by a network of 450 Nous consultants in seven offices across Australia, as well as in London and Toronto. Insights and knowledge from across the network are shared through internal channels that mean clients gain access to localised solutions grounded in global expertise.
Several influential projects in the Territory in the past year have taken the Nous team to places such as Nhulunbuy, Tennant Creek, Katherine and Alice Springs, as well as a range of remote communities.
Nous has worked with the NT Department of Health on evaluating a strategy to prevent chronic health conditions, and with the NT Department of Education on a quality standards framework for schools.
It has also partnered with Aboriginal community-controlled health organisations to support their transformation, and with National Parks Australia to facilitate the return of Jabiru to the Mirarr people.
"This work has shown to us the importance of good implementation," Tom says. "Ideas count for little unless there is the capacity to realise them. Organisations need support to make decisions and not get caught up just admiring the problem – analysis paralysis."
As the wet season approaches, the team has been enjoying all that the Top End has to offer, from the Darwin Festival to camping in the Outback.
Whatever challenges lie ahead for the Northern Territory, Nous will be there to lend a hand.