NATION SALUTES BARRA PIONEERS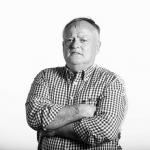 Words by

Nigel Adlam
Published

30 September 2022

The husband-and- wife team of Bob Richards and Julii Tyson began Humpty Doo Barramundi against extraordinary odds.
They knew nothing about aquaculture when they bought into the struggling operation on the banks of the tidal Adelaide River.
There was no running water nor all-weather road access. Much of the workforce was volunteering family and friends.
That was 29 years ago – Humpty Doo Barramundi is now the largest barramundi farm in Australia and the second-largest in the world.
Bob and Julii's tireless contribution to aquaculture, the Northern Territory economy and the community was recognised in the Queen's Birthday Honours List with the award of an OAM to both of them.
"I'm pleased and proud of how far the barra farm has come, but it has been a team effort," says Bob.
"Many people have brought their hard work and passion on the journey."
He says the work has not only been hard-headed business – there has also been a fair share of "fun and irreverence".
"People should never take themselves too seriously."
Julii, who was raised on a dairy farm in New South Wales, was a librarian when the couple bought the barra farm.
Bob was an agricultural scientist born in Tennant Creek.
In the early days, Julii had to continue an office job to keep the family going.
A mere 6kg of fish a week was being harvested and sold to Darwin restaurants.
Today, the farm produces over 90 tonnes a week and sells nearly all of it across Australia to restaurants, major supermarkets, such as Woolworths and Costco, and through homedelivery service Hello Fresh.
Humpty Doo Barramundi is a worldclass operation, producing almost half of the barramundi farmed in Australia.
Sustainability is at the core of operations, with a constructed saltwater wetland system that recirculates water within the farm.
This ensures water is reused, instead of discharged, and creates a clean, healthy environment for the barra to grow.
There is strong demand for Australian farmed barramundi.
Consumers know they can trust that Australian produce is safe to eat and grown in a way that is healthy for the fish, the people who work there and for the environment.
And farmed barra tastes great. It has a high omega 3 oil content that is good for you and makes it easy to cook.
Bob is 74 and semi-retired nowadays, but he still sees the family business he founded 29 years ago as his "baby".
He is justifiably proud of the tasty saltwater barra produced in Humpty Doo for the rest of Australia to enjoy.