ICN
MATCHMAKING MADE EASY
The agency that acts as "matchmaker" between Northern Territory business and lucrative contracts on major and medium sized projects is working smarter and faster – statistic by statistic.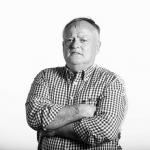 Words by

Nigel Adlam
Published

19 July 2022

The agency that acts as "matchmaker" between Northern Territory business and lucrative contracts on major and medium-sized projects is working smarter and faster – statistic by statistic.
Industry Capability Network NT is using in-depth data analysis to not only evaluate its own performance but to make effective use of a vast bank of knowledge to benefit Territory companies.
ICN chief executive Kevin Peters says data analysis doesn't seem important or profitable on the surface.
"But it's hugely important," he says. "We're getting raw, hard figures, which allows us to make assumptions and plan the way forward."
The analysis gives the organisation the "weapons" to make accurate assessments of the Territory's capacity and capabilities – and, conversely, skills gaps.
The cold statistics can be used to:
Inform project managers
Link NT companies with potential contracts
Help design appropriate work packages for Territory businesses
Support the planning of training programs for Territorians in conjunction with the NT Government.
ICN has employed data analyst Faye Liu to make sense of thousands of statistics.
"We've built up a vast knowledge of the Territory's capabilities," says Mr Peters. "Of course, things change, so we have to update that knowledge constantly.
"We want to make the best use of that knowledge.
"For instance, a project could be in its infancy. We can inform a company so that work packages appropriate for Territory business can be designed. Data analysis allows us to do that.
"Nobody can better assess how local businesses can get involved in major projects."
He says Ms Liu is doing an "amazing" job.
The data analysis is incredibly detailed and allows assessments of business capabilities to be made region by region.
"This obviously also reveals gaps in the Territory's skills," says Mr Peters. "For instance, most of the capability is in Darwin but most of the mines ready to open are in Central Australia."
A Territory business capability study has been completed concentrating on the mining industry.
ICN, which has been operating for 35 years and receives about 150 purchase requests each week, has also collated data on its own performance – and it shows that the agency is unparalleled in helping NT companies win contracts on projects.
More than $5 billion worth of major project work packages have been posted on the ICN Gateway portal in the past three years. Not all of these opportunities have been won by Territory businesses but lower tier opportunities flow nonetheless.
Indigenous-owned NT companies tendered for more than $200 million worth of work in the same period.
Not surprisingly, there was a slump in Territory contracts when the multi-billion-dollar INPEX project went from construction to production – reducing its workforce from 9000 at peak to about 500 now – but it picked up during covid.
"This was probably because government spending was incubated," says Mr Peters.
Project managers and Government departments use the ICN Gateway portal to advertise work packages.
About 150 packages a week are posted on the portal.
More than 4000 Territory companies have registered on Gateway, detailing their capabilities, size of workforce, equipment and project history.
ICN Industry Advisors use smart software to identify which NT businesses may be capable of carrying out which work packages and puts the two in touch.
Businesses can also lodge their own expressions of interest after seeing work packages on Gateway.
Some project managers prefer to work offline, asking the organisation privately about capabilities.
"Not many reasonable-sized projects don't go through us," says Mr Peters.
ICN does not get involved in commercial negotiations.
"We're the piggy in the middle between major contractors and smaller Territory businesses."
And the most extraordinary thing about the ICN's matchmaking work is that it's free for Territory businesses to register. NT Government support enables this as a benefit to local businesses.