The Territory Votes
MARK MONAGHAN
LABOR CANDIDATE FOR FONG LIM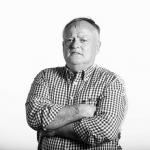 Words by

Nigel Adlam
Published

01 July 2020

Mark Monaghan believes in working hard to nurture the conditions for business owners to create wealth, jobs and training opportunities for Territorians.
But he also believes that nobody should be left behind. Mark is the Labor candidate for the inner Darwin seat of Fong Lim in the Territory election. He has empathy with small owners in particular – his dad ran a stone masonry business. "I know how many hours small business people put in to survive. I admire that."
The former teacher also understands the need for Territorians to be given the opportunity to improve themselves. "I have a great desire for social justice," he says. Mark was born in Glasgow and emigrated to Tasmania with his family when he was nine. "I know that families can do it tough. My father struggled, as many Glaswegian men did, with alcoholism.
"However, he endeavoured to cope with his addiction for the sake of his family, which quickly expanded when my mother had five kids within five years. "Mum told my dad one day, 'It's the bottle or your kids'.
He chose the kids and never touched a drop of grog again." Mark, who was only the second member of his family to go to university, has had a fascinating career. He was the assistant principal of a school in Hobart until he decided he no longer wanted to wear a double-breasted suit to work and took a job on the Tiwi Islands in 1996. "The Tiwi are a great people."
He met his born-and-bred Territorian wife Michelle in the NT. They have been together for 25 years and have three children, Bernard, Grace and Riane. After three years on Bathurst Island, Mark spent a year as mentor and cultural adviser during the making of the hit movie Yolgnu Boy.
This was followed by senior education jobs at Urapunga in the Roper region, Groote Eylandt and Jabiru. He then became head of Engineers Australia in Darwin and later NT manager of engineering company Pritchard Francis. Mark's background has given him a broad understanding of business, particularly engineering, oil, gas, renewable energy and the mining sector.
He is standing for Parliament because he believes he has something to contribute to the Territory. "I was brought up in a family that believed if you could do something for your community, you should just do it. "The coronavirus pandemic means that we'll face tough economic times.
We need an experienced Labor team to manage the economy. But we also need a Labor team rejuvenated with new members." Mark believes that the Territory's vast energy resources should be harnessed to create downstream jobs and training opportunities to attract manufacturing sectors in the NT.
"I want to help make the economic pie bigger so that we can all prosper, and families have a future for their kids to enjoy the aspects of the Territory that brought me to my home 25 years ago." TQ