GreenGlass Consulting
MAKING A DIFFERENCE
Martin Glass understands more than most one of the great truths – a job is better than welfare payments any day of the week.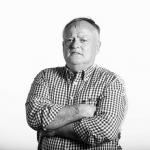 Words by

Nigel Adlam
Published

01 July 2020

His Alice Springs-based company, GreenGlass Consulting, has trained dozens of Indigenous men and women since being founded in 2009. About 30 Aboriginal men and women have gained employment with the Yapa Crew at Newmont's The Granites mine in the Tanami and about a dozen of them have successfully gained fulltime jobs with the mine.
"Getting someone from Centrelink payments to a $120,000-a-year job within a year or two is extremely rewarding," he says. Martin says Newmont Goldcorp, the world's largest gold miner, deserves credit for its support of Indigenous employment. "They are putting resources into making the programs work," he says. "And they have been particularly supportive during the coronavirus lockdown, keeping the crew employed."
He believes there is enormous potential to expand his employment model; for instance, he says about 100 Aboriginal people would have meaningful jobs if each of the emerging mines in Central Australia took on 15-20 local Indigenous workers, and provided meaningful employment with career development options both within the program and through transferring to the operator of the mine or the mining company.
"GreenGlass provides a work-ready operational capability to manage the land the mine is operating on. "During the course of the first year or two of employment we provide a range of training, in partnership with the mine and Northern Territory Government, to upskill the crew members for a greater variety of employment within the crew and also preparing them for employment with the principal if they wish to transfer.
"We are culturally aware but insist on high professional standards in all our work and are completely compliant with the principal's safety regime. "The Yapa Crew are not miners, but there is a lot of work on a mine site that is not done by miners, such as land management, general maintenance and minor earthworks, looking after sacred sites and providing cultural advice. "And, of course, our program would suit many other industries."
Local Aboriginal employees become part of the Yapa Crew; Yapa means "local bloke" in Warlpiri. Much of the training has been completed at the Hamilton Downs Youth Camp, 75 kilometres west of Alice Springs by road where trainees learn a range of skills, such as excavator, loader, skid steer, chainsaw and elevated platform work.
GreenGlass Consulting coordinates the training, which is supported by the Northern Territory Government and Newmont. Civil Train is the training provider. "The scheme has been very successful and could easily go onto greater success," says Martin. "Private enterprise, with a little help from government, could play a major role in training Aboriginal people and getting them into employment. "I'm not saying this is an easy job.
It's obviously more expensive and logistically difficult to get Aboriginal people trained and into employment. "Just getting people to and from remote communities can be very hard – poor roads, adverse weather, great distances. "But there are a lot of good things happening in Aboriginal employment – and that should be recognised."
Civil Train's NT manager of operations Mark Hopkins says Indigenous trainees show "commitment and enthusiasm" during training. GreenGlass Consulting earns praise for its work. For instance, Brian Fowler of Arafura Resources, which is developing the Nolans Bore rare earths mine 135 kilometres north of Alice Springs, says: "GreenGlass Consulting has worked in the mining space and has strong practical experience in putting together workable Indigenous employment models. "They go the extra mile to make the programs work and have a well-developed understanding of both industry requirements and the nuances of the local workforce."
GreenGlass Consulting has four divisions:
• Recruitment and labour hire – labour hire and sourcing for direct employment
• Consulting for Indigenous businesses, including marketing, leadership and management, and tender preparation
• Business development, such as planning, mentor support and information technology
• Transport and logistics – refrigerated transport in Darwin and Alice Springs, removals and storage, and general deliveries
Martin became deeply interested in Aboriginal affairs when he was commanding officer of Norforce 20 years ago. He went on to hold a range of senior corporate positions and has managed multi-million-dollar technology projects for governments and the private sector.
The former soldier holds postgraduate qualifications in leadership and management, as well as general qualifications in management, health, safety, training and project management. TQ
CONTACT
GreenGlass Consulting
2/66A Smith Street, Ciccone, Alice Springs NT 0870
PO Box 3590 NT 0871
08 8953 0230
info@greenglassconsulting.com.au