Arafura Resources
MAGNETS FOR CLEAN ENERGY
Arafura Resources is poised to become a low-cost supplier of the strategically important rare earths neodymium and praseodymium (NdPr), both critical components in high-powered magnets used in the fast-growing market for electric cars and clean energy applications, such as wind turbines.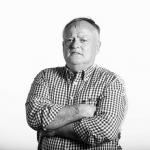 Words by

Nigel Adlam
Published

01 October 2019

The Nolans Project, 135 kilometres from Alice Springs in Central Australia, hosts one of the largest NdPr mineral deposits in the world, with Arafura well-positioned to meet a looming supply shortage across the globe.
The company, which has offices in Darwin and Perth, plans to mine, process and refine NdPr and other rare earths about 10 kilometres from the Aileron Roadhouse. It will also produce phosphoric acid for Indian agricultural fertiliser markets.
"Downstream processing to highly refined products at the Nolans site adds value for the Northern Territory and eliminates sovereign risk for Arafura," Arafura's Managing Director Gavin Lockyer says. "It also allows us to establish a clear, clean and transparent supply chain from ore to final products, including managing all our mine and process wastes at a single site."
Other advantages of the site include its proximity to transport infrastructure, the Amadeus gas pipeline, and a large, recently discovered borefield. It is close to Alice Springs, which will become a transport and logistics hub for the project as well as a source of workers, services and supplies.
Nolans has Major Project Status with the Northern Territory and Australian governments and is going through due diligence for an application with the Northern Australia Infrastructure Facility.
"Things are falling into place," Mr Lockyer says. "We have our environmental approvals, we have just completed an important capital raising, our pilot plants have established technical viability and our feasibility study shows the project stacks up economically."
As well as a recent $23.2 million capital raising and strong interest from European customers, Singapore-based company Talaxis is now a substantial shareholder. Talaxis is a subsidiary of Noble Group, Asia's leading commodities trader and supply chain manager, and focuses on metals such as rare earths that contribute to a low-carbon world economy.
"It remains a difficult environment in which to raise capital, but our strategic partnership with Talaxis comes at a critical time in our project development," Mr Lockyer says.
The Nolans Project has the potential to bring transformational opportunities to Central Australia's economy, with an initial mine life of 23 years likely to be extended.
"We are here for the long haul," Mr Lockyer says. "That gives us a chance to build relationships and pathways to jobs and business opportunities."
To build on a goal of becoming an "employer and partner of choice" in Central Australia, Arafura engaged the Karen Sheldon Group to develop an Indigenous engagement strategy.
Key education, training, business and Indigenous stakeholders were invited to a round table in Alice Springs in April to collaborate on approaches to maximising local jobs, business and community development opportunities.
"Karen Sheldon has a reputation for Indigenous training and social enterprise development in Central Australia," Mr Lockyer says.
"She understands the barriers mining companies face in trying to deliver good outcomes for the communities in which they operate. She brings valuable advice, experience and local connections."
As the project advances towards a final investment decision, Arafura has started engaging key contractors and signed a memorandum of understanding with Territory company NT Link to supply a 650-person accommodation village for the project's construction workforce.
The company is negotiating a native title agreement with Anmatjere Traditional Owners, through the Central Land Council, before seeking final mining approval from the Northern Territory Government and opening an office in Alice Springs.
"Subject to completing all approvals and project funding, we hope to start construction in late 2020 and have our product heading to market in 2022," Mr Lockyer says.
For more on the project, go to www.arultd.com TQ