LIFE'S SWEET FOR ZIPPRINT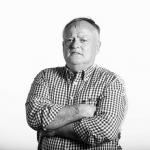 Words by

Nigel Adlam
Published

30 September 2022

Highly-regarded printing and graphic design company Zipprint has moved to a sparkling new HQ in Darwin.
The business fitted out a 700 square metre building in Sweet Street, Winnellie, after outgrowing the old premises on the Stuart Highway.
Mark Teakle, who is celebrating his 10th anniversary as the owner, says the new ground-level home with ample parking will enable Zipprint to offer even better services.
Business has increased significantly since the move in August.
"The building and signage stand out and attract more customers by having a high profile," he says.
Mark, who also owns Asprint in Alice Springs, has invested more than $1 million across his businesses in the past three years, including buying state-of-the-art equipment, such as Ricoh digital printers and Roland wide format machines.
"The Ricoh equipment is superb," he says.
"I bought three and was so impressed that we bought another one due to the high demand for our work. The new Ricoh 9210 can handle over one million sheets of paper a month."
Zipprint – motto: Keeping It Zippy – has about 650 active clients, ranging from $10 copy jobs to $400,000 contracts.
"We concentrate on quality of service and speed. Our point of difference is that we're a friendly, approachable Territory family business."
Walk-in business is set to increase now that the shop has opened an easy on-demand service.
"People can just walk in off the street and get copying, laminating and binding jobs done in a Zippy time frame."
Zipprint has in-house graphic designers, who can bring a concept to life – from business cards to full rebrands of businesses.
The company offers a wide range of printing options including digital, offset and wide format.
They can produce everything from business cards, invoices, purchase order and pre-start books, simple training manuals and annual reports right through to high-quality magazine work, such as Territory Q.
Zipprint also offers design and printing of advertising material such as pullup banners, bumper stickers and coreflute signage.
"Don't do the cheap and nasty advertising deals online – come and support a local business and get the high quality your business deserves."
The business has started picking up work from interstate agencies who are after speedy delivery to their Territory clients.
Mark, who employs 11 staff in Darwin, loves his work.
"I come to work every day feeling good," he says. "It's like being paid to play with your toys."
He is always willing to go above and beyond for the business, including sweeping up when all the staff are busy and even working on Christmas Day last year to finish a job for the Department of Health.
Mark has built up a good team, including production manager Glenn Bull – they went to trades school together – and office manager Joanne Salva, who he has worked with for many years.
"Caring for your clients and staff is so important to success."
Mark, a lifelong motorsports fan, fell into printing.
He was a teenager working at a supermarket in Alice Springs when the boss refused to give him the weekend off to compete in a motocross race in Tennant Creek.
"I quit and went to Tennant for the race. I won. A few days later I got a call from someone who knew I was out of work offering me an apprenticeship as a printer. I said 'yes' and haven't looked back."
His first job was at Alice-based Territory Printers where he was named Northern Territory apprentice printer of the year in 1987. The company went bust on the day Mark finished his apprenticeship.
He joined another company and was promoted to manager two years later, transferred to the Darwin operation and went out on his own after 21 years by buying Zipprint.
Mark, who has five children and one grandchild, says life is all about family.