KPMG
KPMG'S LOCAL TOUCH
Leading audit, tax and advisory firm KPMG may be one of the giants of world accountancy.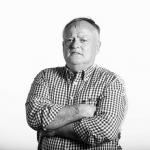 Words by

Nigel Adlam
Published

01 April 2021

Leading audit, tax and advisory firm KPMG may be one of the giants of world accountancy.
But it's thriving operation in Darwin feels very Territorian – highly professional and focused but also friendly, approachable and always ready to help.
"We love supporting Government and business in the Territory to grow," says managing partner Derek Campbell.
KPMG, which occupies one of the charming rough-stone buildings at the end of Smith Street Mall, offers a vast range of services – from the traditional areas such as audit and assurance, risk consulting, tax and deal advice to supporting development of policy for government or industry and large technology or business transformation projects.
"A lot of people think we just offer tax services," says Derek. "Yes, we do offer professional tax services. But we do so much more."
And KPMG offers services to an extraordinary range of clients – from sole operators to big business, from Territory Government to Indigenous organisations.
It supports local businesses in diverse industries, including seafood, tourism and retail.
The company is aiming to increase staff in Darwin from about 50 to 70.
"But we are very particular about who we employ," says Derek. "We would rather wait for the right person, even if that means the rest of us having to work harder short term as it allows us to build a better team.
"We want the best. We want people who know how to build personal relationships with clients – something that is so important to help businesses realise their goals."
KPMG has increased its client base in the Territory by more than 30 percent in the past 12 months and expects the growth to continue with further investment in staffing.
The firm is bullish about the economic future of the NT – and is committed to playing a key role in supporting private enterprise, as well as providing local talent the opportunity for career development without having to move interstate.
It wants to create opportunities for university graduates – a recruitment information event attracted nearly 100 prospective graduates.
And it also expects to add more senior talent to the Darwin office in the next few months.
KPMG's Australian leadership is a strong supporter of the Darwin office expanding.
The company, which operates in nearly 150 countries, has world-class experts in every imaginable field, which means a client in the Northern Territory can be given access to specialised advice on any subject.
"We just have to pick up the phone," says Derek.
But the Darwin office is now being given work from interstate offices as part of the company's policy of well-managed, sustainable regional expansion.
KPMG spent more than $750,000 with Territory contractors to refurbish its Smith Street office.
The high quality of the fit-out was recognised at the Master Builders NT Excellence in Building and Construction Awards when the builder, SHAPE Australia, won the Commercial & Retail Fit Out or Alteration trophy.
KPMG's enterprise managing partner Paul Howes and Chief Minister Michael Gunner were among guests at the official opening of the new-look office.
Key work KPMG has undertaken with the NT Government recently includes:
Darwin Seafood Processing Facility Scoping Study – launched by Deputy Chief Minister Nicole Manison in February, KPMG's work is examining the potential opportunity to maximise the value of local seafood catches
Tourism Support Program – KPMG was engaged through NT Major Events to support more than 120 tourism businesses when covid hit from April 2020. Consultations covered a broad range of areas, including marketing, strategy, financial literacy, grant funding options available and planning to support the unknown changes coming out of covid with regards to travel.
A contract with the Northern Territory Auditor-General's office extended for a further three years.
In the private sector, KPMG's team is continuing to build its reputation for adding value to business by building trusted relationships and focusing advice on supporting the aspirations of business owners.