JKY & CO
JOHN'S WORK WINS APPLAUSE
One of the world's most famous vehicle manufacturers was mightily impressed by the work of a highly regarded Northern Territory accountant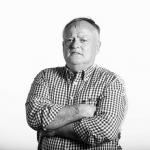 Words by

Nigel Adlam
Published

06 January 2021

Representatives from Land Rover offered Leigh and Rachel McKay the chance to become the brand's authorised repair and spare parts supplier in Darwin.
During negotiations, Rachel produced a business plan drawn up by John Yousef of JKY & Co accountancy firm in Winnellie.
"They were very impressed," says Rachel. "They said they had never seen such a good business plan."
The well-structured, intelligent plan played a key part in winning the young mechanics the Land Rover contact.
"I'm delighted for them," says John. "I enjoy helping business people and see their businesses grow. It gives me a great sense of satisfaction." John tailors business plans to individual organisations.
"I research not only the business but the whole industry," he says.
"And then I consult the owners in drawing up a sustainable plan.
"I set short-term and long-term goals – and always follow up to check that those goals are being achieved. Part of completing a successful business plan is the post-implantation. It's important to follow up with my clients."
The accountant can offer advice on how to survive post-covid. John says Federal and Territory government aid has helped many small Territory businesses survive the crisis but adjusting to the new economic environment is essential to long-term business survival.
He says many small and medium-size businesses get into trouble by failing to keep up with their GST, PAYG and superannuation obligations.
"Some people think they are doing OK if they pay off their immediate creditors. They treat the ATO like a bank. But that's not the case – and can be very dangerous.
"Get professional help to keep all your payments up to date. It's essential for long-term survival."
John had $8000 when he launched JKY & Co in 2002. After buying software and furniture, he was down to $1500.
The firm is now thriving and now employs five accountants locally and interstate.
Loyal clients include businesses in retail, hospitality, mechanics, transport, mining, construction and not-for-profit organisations.
"We handle businesses of all sizes – small, medium or large."
John was born in Newcastle in New South Wales and moved to Darwin with his parents when he was 11. His late father, Yousef Yousef, who was born in Egypt, was a respected finance lecturer at what became Charles Darwin University for more than a decade.
John is the treasurer of the Helping People Achieve charity. TQ
CONTACT
JKY & Co
48 Albatross St, Winnellie NT 0820
08 8947 7030
John@jkyco.com.au